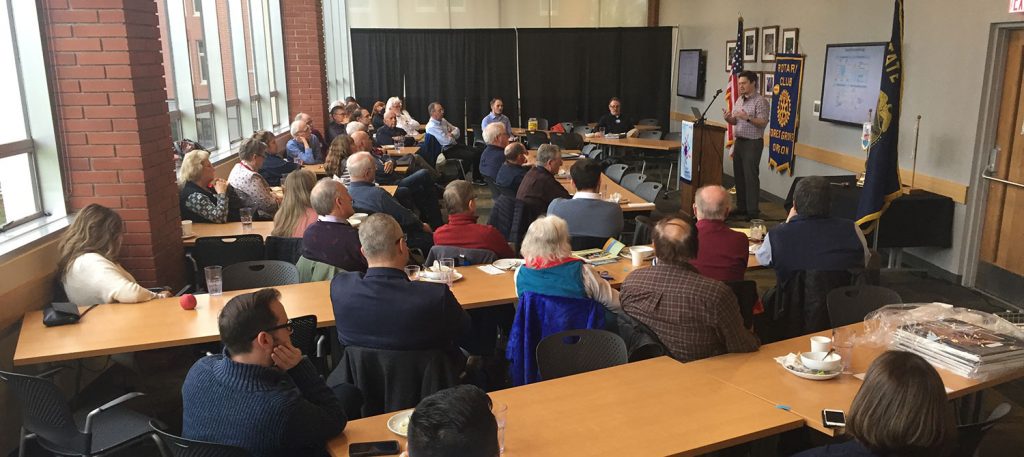 We welcome everyone to join us for our weekly meetings! Our regular weekly meetings take place on Wednesdays at noon in the Boxer Pause room in the University Center at Pacific University. The room is on the main floor at the back of the dining commons. There is no meeting fee. A meal will be available for a nominal charge.
Directions To Pacific University (Google Maps)
For the safety of everyone involved, Pacific University is asking that anyone attending in-person meetings follow the following safety protocols:
• All persons who attend in-person meetings on campus are required to be vaccinated against COVID-19.
• If you are experiencing any of the symptoms associated with COVID-19, please stay home and join us via Zoom. Click Here For Symptoms.
• If you have been in close contact with an individual who is a confirmed or presumptive COVID-19 case, or have tested positive for the virus yourself, follow the quarantine guidance from the Washington County Health Department.
As of March 12, 2022, the use of facemasks on the Pacific University campus are optional.
These rules will help keep our members and community safe and will allow us to meet in-person after such a long time apart.
If you are unable to join us in person, you can join our weekly meetings online through Zoom.
https://us02web.zoom.us/j/183084884
Meeting ID: 183 084 884
Satellite Club Meetings: Our Satellite Club meets on the third Thursday of each month at 6:30 p.m. Location varies by month. Read our Rotary Rewind updates or visit the program schedule on our home page for meeting details.