Rotary Rewind – Apr. 27, 2022
Posted By admin
---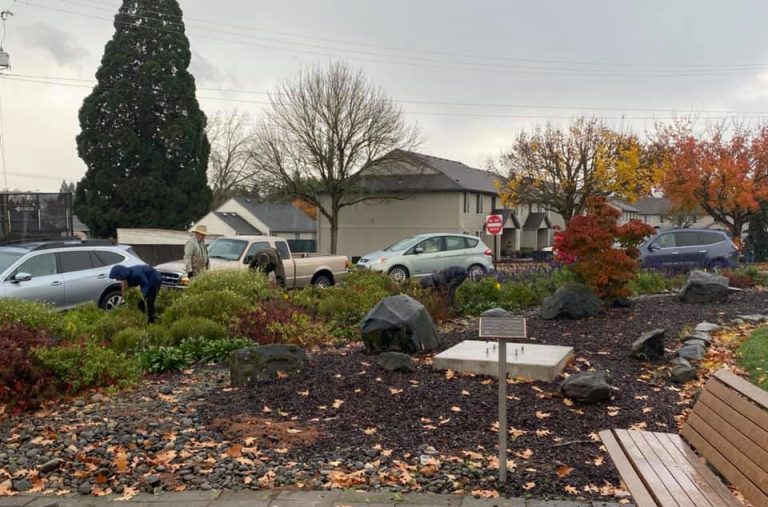 If you didn't make it to our last Rotary Club of Forest Grove meeting, here's what you missed…
In Memoriam – Ray Giansante: It is with heavy hearts that we learned that Ray Giansante, a former member of our club and a longtime community leader, passed away on April 26. Ray was a longtime educator in the Forest Grove and, after his retirement from teaching, was the director of the Forest Grove Chamber of Commerce. His list of community activities and involvement is numerous.
A Recitation of the Rosary will take place on Friday, May 6 at 11:30 a.m. with a funeral mass to follow that day at noon.
Steak Feed: Tickets are now available for our annual Steak Feed, which returns after a three-year COVID absence on Friday, June 10 from 5-8 p.m. Ticket packages were handed out to members who attended our meeting on Wednesday. The rest will be mailed out.
Tickets are $25 each and includes a choice New York steak, salad, baked potato, rolls, beverages and dessert. Proceeds from the event go to our club's involvement in the Rotary Youth Exchange program (which will also restart this year). It is the expectation that all Rotarians try to sell at least 10 tickets to the event. If you sell more, that is great!
The Steak Feed is an "all-hands-on-deck" event, with all members expected to participate and help on the day of the event. A list of committee assignments is included with the ticket mailing and is Linked Here.
For more information or questions, please contact Geoff Faris.
Garden Planting Party – May 14: It is that time of year again! We will have a planting party for our McDougall Garden on Saturday, May 14 at 9 a.m. The garden is located where Pacific Avenue and 19th Avenue come together, across from the big flagpole. Be sure to bring clothes and tools to plant and spread compost.
For more information or questions, please contact Geoff Faris.
Rotarian Work Day At Habitat: Thank you to all of our Rotarians and friends who came out for our service project with West Tuality Habitat for Humanity on Apr. 20. We spent three hours at the Kidd Court development on 22nd Place and took advantage of the nice weather to put a first coat of paint on the exterior of two of the new units.
Thank you to Janet Peters and Virginia Ohler for coordinating the project and to the following who participated: Bryce Baker, Tom Raabe, Blake & Melissa Timm, Jim Cain, Geoff Faris, Greg Nemchick, Janet & Rus Peters and Melinda Fischer.
Crab Feed: Once again, a big thank you to the Crab Feed Committee for the wonderful event that our club had on Wednesday, April 20. Members of the committee, chaired by Julia Kollar, included Bryce Baker, Jeff Duyck, Melinda Fischer, Jessica Lynch, Hector Mendez-Colberg, Andrea Stewart, Parri Van Dyke, Claudia Yakos and Michael Yakos.
Photos from the evening can be found on the club's Facebook and Instagram accounts.
Through the silent auction and dessert raffle, our club raised over $3,300 towards our Rotary Foundation Annual Fund giving goals. Those contributions have brought our club to $7,819 raised towards our club Annual Fund goal of $8,500.
Scholarship Committee Update: The deadline for applications for the 2022 Rotary Club of Forest Grove Scholarship program has passed. The committee is pleased to report that there were 33 applicants this year, up from 14 the year before. The committee is now reviewing applicants and will announce recipients in early June in conjunction with senior awards celebrations for the local high schools. Thank you to chair Sharon Olmstead and the committee for their important work!
Concours Update: Planning for the 2022 Concours d'Elegance is well under way. Our annual car show, which raises funds for our club's Scholarship Program, will take place on Sunday, July 17, on the campus of Pacific University. This year's theme is a celebration of Jaguar. In addition, the show will showcase a salute to British Excellence with feature classes for MG, Triumph and Lotus.
Here are a few updates from the Concours committee:
Registration: Registration for this year's Concours is now open. Let's get as many cars out on the show field to help celebrate our return! There is a suggested entry donation of $25 per car. More details on entry classes and the registration link can be found at https://forestgroveconcours.org/enter.
Sponsorships: Tim Pearson has a goal of 100 sponsors for the show. "That's going to be a stretch but I think it is doable," Tim said, but he needs the help of club members to make it happen. A copy of the sponsorship flyer is Linked Here. If you have sponsorship questions or a lead, please contact Tim at 503-998-8616 or TimPearsonPC@gmail.com.
Concours Events: The Concours Committee is moving forward with a Friday night concert event to start the weekend. The concert will take place on July 15 at Elk Cove Vineyards near Gaston. Capacity will be limited to 200 people. More details will be coming soon.
The Evening of Excellence dinner will take place at the Pumpkin Ridge Golf Course on the evening of Sat., July 16.
For more information on the show, visit forestgroveconcours.org, or contact show chairman Ryan Garcia at rypgarcia@gmail.com.
As our club's primary fundraiser for the year, the Concours is an "all hands on deck" event with all club members expected to volunteer.
RYLA Applications Open: After a two-year hiatus, applications are being taken for the Rotary Youth Leadership Awards (RYLA). RYLA is a one-week intensive leadership training experience for youth ages 21 to 32 years old that includes team-building exercises, guest speakers and more. This year's event will take place July 9-15 at the Menucha Retreat Center in the Columbia River Gorge.
Applicants must be sponsored by a local Rotary club and our club has traditionally sponsored two RYLA participants. The deadline to receive applications is Sunday, May 15.
For more information on the program, please contact Andrea Stewart at 503-357-1427 or astewart@pacificu.edu. Information on RYLA, along with the required application, can be found online at ryladistrict5100.org.
Donations For Ukrainian Relief: As part of Rotary International's efforts to provide relief to the humanitarian crisis in Ukraine, the Rotary Club of Forest Grove is collecting donations for the effort. Rotary International has created a specific channel for donors through Rotary's Disaster Response Fund.
Our club is offering a $1,500 match for contributions made by club members towards the humanitarian response (President Bryce has said that the match could be more if our club raises more). To date, our club has raised over $1,250 for humanitarian relief.
Contributions can be made at any club meeting. If you have questions about the effort or the match, please contact President Bryce Baker.
To date, District 5100 has raised an impressive $140,000 for Ukrainian relief efforts, which will be channeled to Rotary's Disaster Response Fund's channel for Ukrainian relief. Learn More About Rotary's Efforts
Ukraine Relief Update From ShelterBox: As the war in Ukraine rages on, an unprecedented number of people are fleeing in search of safety. Right now, more than 12.5 million people – over a quarter of the population (44 million) have been displaced, either internally within Ukraine or as a refugee who has fled to a neighboring country. More than half of Ukraine's children are displaced by the crisis.
ShelterBox has been responding to the crisis in Ukraine. A ShelterBox Response Team is currently deployed in Lviv, supporting our humanitarian relief projects to help people internally displaced within the country. Thousands of mattresses have already been distributed to provide comfort to people sleeping in evacuation centers. Additionally, we are providing Shelter Kits to help people living in damaged buildings, along with essential household supplies, including solar lights, thermal blankets, and water carriers.
Another ShelterBox Response Team is responding in Moldova to help refugees who have escaped and arrived with few resources.
The humanitarian need is massive, and with your support, ShelterBox is doing everything we can to ensure the most vulnerable families are not forgotten. Our teams continue to work tirelessly alongside our partners to distribute life-saving aid items within Ukraine and Moldova.
More On ShelterBox's relief efforts in Ukraine is available on the ShelterBox USA Website.
Online Dues Payments: Our club is now equipped to process dues payments online! We can now process credit card or debit card payments for quarterly dues. Information on how to pay online will be included with quarterly billings that will be coming to your mailbox or email inbox.
With the transition to billing with Quickbooks, some members may not have received their quarterly invoice. If you did not, please contact treasurer Lucas Welliver at 971-241-7426 or lucaswelliver@gmail.com.
FGHS Community Food Pantry: Our club's support for the Forest Grove High School Food Pantry continues. Thanks to its partnership with the Oregon Food Bank, food donations are still welcome but are of less need at this time. Of need, however, are toiletries and hygiene products as well as household cleaning materials.
The Food Pantry is open on Mondays from 4-5:30 p.m. The pantry is now open in its new site in the building along Nichols Lane between the football field and the Basinski Center.
For information on the Food Pantry, please contact Brian Burke, bburke@fgsd.k12.or.us. If you wish to make a cash donation to the pantry, Click Here.
Additionally, Rotarian Gwen Hullinger has put together an Amazon wish list of items that can be purchased and donated. Click Here To View That List.
Past Programs: Did you miss a meeting or want to go back and check out a program again? Most of our programs since May 2020 are archived on our club's YouTube page. Visit https://bit.ly/fgrotaryprograms.
Around District 5100
District 5100 Rotary One Conference: Registration is now open for the District 5100 One Rotary Conference, which will take place on Seaside from May 19-22. This year's event is a combination of the former district training assembly and the district conference, designed to be both a weekend of Rotary education and celebration.
The One Rotary Conference is free for Rotarians but advance registration is required. The only charge is for any breakfasts, lunches and dinners taken during the conference and accommodations.
A working schedule of events and training sessions for the One Rotary Conference can be found by Clicking Here. You can register for the event by logging into DacDB and clicking on the registration link.
A conference rate for accommodations is available at the Saltline Hotel, 250 1st Ave., Seaside, and at the Inn at Seaside, 441 2nd Ave., Seaside.
Saltline Hotel, saltlinehotel.com, Group Code: RD5100
Inn at Seaside, innatseaside.com, Group Code: RT5100
Around Rotary International
Eurpoean Rotaract Clubs Organize To Help Ukrainian Refugees: Within hours of Russia's invasion of Ukraine in late February 2022, Iryna Bushmina fled her home in Kyiv. Along with her sister and her three-month-old nephew, she journeyed to Vienna, Austria, staying with Rotary members along the way. Their generosity inspired Bushmina, a member of the Rotaract Club of Kyiv-City and the district Rotaract representative for Ukraine, to organize a larger-scale relief effort — and now, an online platform she created has helped Rotaract and Rotary members find shelter for thousands of Ukrainian refugees.
Across Europe, Rotaract members are using digital tools to share information and coordinate to help people who have been affected by the war in Ukraine. By routing communications through the European Rotaract Information Centre (also known as Rotaract Europe), a multidistrict information organization that serves clubs in more than 40 countries, these young members are using the power of Rotary's global network to direct aid where it's needed most.
Shortly after the war began, Christiane Leitner, the president of Rotaract Europe, learned about a project that was already underway to help Ukrainians. Led by the Rotaract Club of Klagenfurt-Wörthersee, Austria, Rotaractors coordinated using the Rotaract Europe website, then packed five vans and cars full of relief supplies and drove through the night to the Polish-Ukrainian border, where local Rotaractors were waiting to deliver the aid.
"This really stood out to me as an example of how quickly our Rotary network can make things happen," says Leitner, a member of the Rotaract Club of Linz, Austria. After learning about dozens of Rotaract initiatives that started within a week of the invasion, she realized that Rotaract Europe could play a key role in coordinating communication among Rotaract and Rotary clubs and districts and facilitating partnerships that could lead to projects.
Rotaract Europe leaders have compiled information for refugees as well as for volunteers on their website under the heading United for Peace. As Bushmina worked to create a housing-specific platform called Spaces for Ukraine, she used the United for Peace webpage to post information and a form to match refugees with hosts. The page also offers updates about projects in neighboring countries, information about free rail, bus, and air transportation available to refugees, and tips for helping people at the border. There are lists of needed supplies and options for making donations as well.
"Rotaract clubs have the chance to get an overview of what's going on in and around Ukraine, and then decide what projects they can help implement," Leitner says. "We want to make it as easy as possible for our members to connect and collaborate."
Leitner and other leaders of Rotaract Europe meet weekly over Zoom with Rotaract representatives from each European country to exchange ideas and share updates about projects. These meetings have helped foster better communication and organization, she says.
Since it began as a coalition of clubs in 1988, Rotaract Europe has focused on sharing information about Rotaract activities across borders. But the effort to help Ukrainians is different, Leitner says: "We are being much more proactive than in the past. The passion and energy of Rotaractors are really motivating us to do more."
Last Week's Program: Phil Friesen, Pacific University Outdoor Pursuits
Click Here To Watch The Full Program
Phil Friesen, the director of the Pacific University Outdoor Pursuits program and a professor in the university's outdoor leadership program, joined us to introduce us to both programs and the benefits both provide to Pacific students.
Phil came to Pacific in 2009 to lead the Outdoor Pursuits program and helped start what has developed into the outdoor leadership undergraduate program. Prior to Pacific, Phil started the Outdoor Pursuits at Johns Hopkins University.
A lot of students receive good book knowledge in college but do not often get exposed to nature. The Outdoor Pursuits program and the outdoor leadership program help provide skills for students in real-life situations so that they can have a positive impact on others' lives. The outdoor leadership program tries to support youth to be as effective as possible in the real world.
Pacific University's outdoor programs provide an opportunity to connect to nature with our whole being, practice leadership skills and provide positive economic impact.
Studies show that spending time in the outdoors restores mental energy, improves concentration, decreases stress and lowers blood pressure. It seems more important to people of an older generation, Phil said, but important to teach the values to younger generations. One his Phil's favorite things is seeing people's awe and wonder in going out and experiencing nature.
The outdoor leadership program teaches judgment and decision-making, group facilitation, grit, technical outdoor skills and learn to teach others how to move their body in nature. They want to teach people that it is okay get dirty and be a little cold in order to have the full outdoors experience.
Phil pointed out how valuable the outdoors is to the U.S. economy. The outdoor recreation economy accounted for $373 billion in the U.S. each year, or 1.8 percent of GDP. Outdoor recreation supported $15.6 billion in consumer spending and 224,000 jobs.
The Outdoor Pursuits program is looking to remodel the Milky Way building, located along 21st Avenue adjacent to the campus, to help expand the program. The space has previously been used by the university as an event and concert venue.
Outdoor Pursuits is open the public for trips and for gear rental. For more information, visit https://www.pacificu.edu/sports-recreation/outdoor-pursuits.
Club Calendar
Wed., May 4: Weekly Meeting, Noon
Boxer Pause Room, University Center, Pacific University
Program: Estafania Rodriguez, Adelante Mujeres
Thurs., May 5: Executive Board Meeting, 7 p.m.
Via Zoom
Wed., May 11: Weekly Meeting, Noon
Boxer Pause Room, University Center, Pacific University
Program: Eileen Kravetz, Tualatin Hill Parks Foundation
Thurs., May 12: Board Meeting, 7 a.m.
Via Zoom
Sat., May. 14: McDougall Garden Work Party, 9 a.m.
MacDougall Garden, Pacific Ave. & 19th Ave. at Big Flagpole
Sun., May 15: RYLA Application Deadline
Submit Applications To Andrea Stewart
Fri., June 10: Steak Feed, 5 p.m.
Pacific University Campus
Sun., July 17: Concours d'Elegance
Pacific University Campus
---