Rotary Rewind – Dec. 23, 2020
Posted By admin
---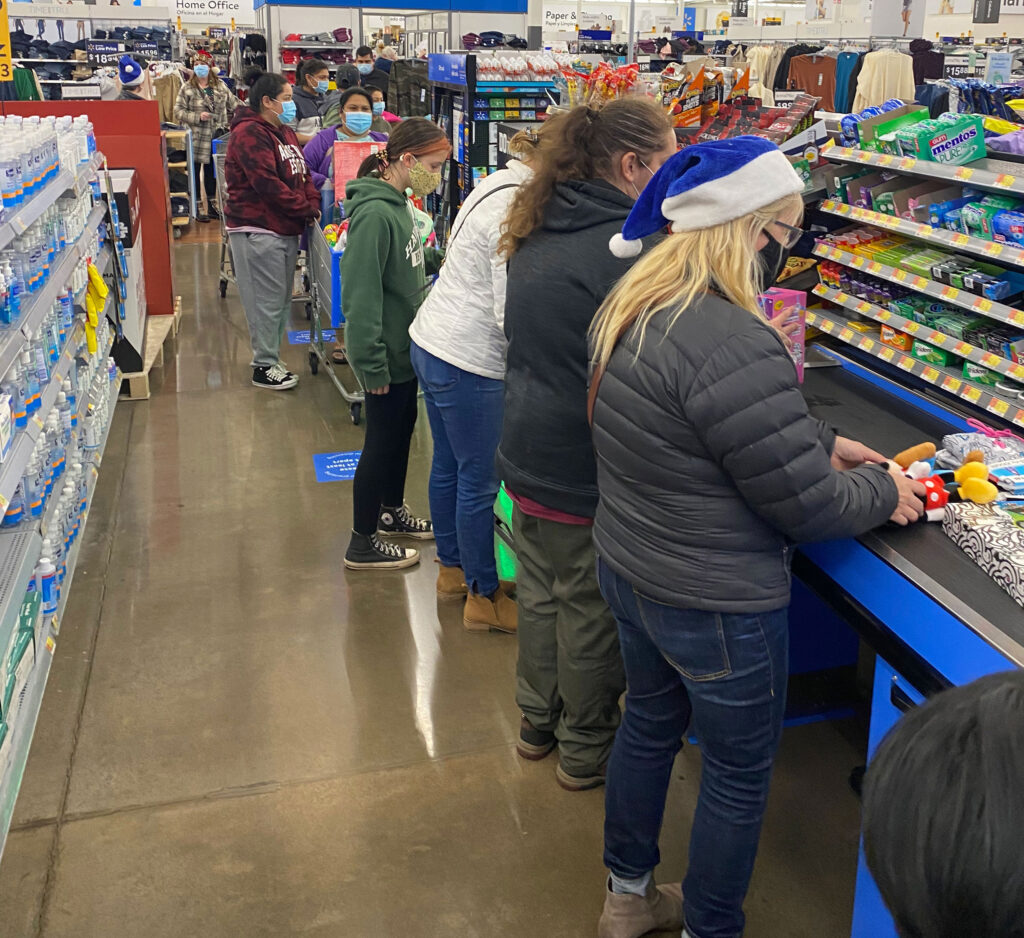 The special checkout lane set up for our Hope For The Holidays event at the Cornelius Walmart on Dec. 21.
If you didn't make it to our last Rotary Club of Forest Grove meeting, here's what you missed…
Online Meetings: We will continue to meet virtually using the Zoom Meeting platform for the foreseeable future. Our meetings will begin at our normal meeting time, Noon on Wednesday. All Rotarians are welcome and participating will count towards meeting attendance. Here are the login details (will be the same for all of our online meetings moving forward)…
Direct Link: https://zoom.us/j/183084884
Meeting ID: 183 084 884
To join by phone, dial 669-900-6833 or 346-248-7799 and enter the meeting ID number when prompted.
Zoom App Downloads
Zoom Cloud Meeting App For Android
Zoom Cloud Meeting App For iPhone
Download Zoom Meeting App For Desktop
Hope For The Holidays: Thank you to all of our club members who participated in this year's Hope For The Holidays project on Dec. 21! It was special to once again serve so many families and help make Christmas a little brighter. A more detailed feature with details about the event will be published in a future edition of the Rototeller.
Photos from the event can be found by Clicking Here and Clicking Here.
Rotarian Juanita Lint, who participated in Hope For The Holidays for the first time, shared this story with the club about her experience:
"I got so much joy out of being able to help that mom shop for Christmas presents for her kids.  It was the best.  But I have a story. 
As we were walking around the store, I told the mom to keep her eyes out for a Christmas mask because my mom wanted one.  So we would look for one every once in a while and while we were waiting in line to check out, she asked me if I was familiar with Cornelius because there's a lady who lives in Cornelius in a trailer that makes them as has holiday ones.  She told me exactly where to find this trailer.  We finished checking out.  I gave her the leftover card and wished her Merry Christmas and said, 'Now, I have to buy a turkey.' 
After I checked out and was walking out the door, the mom came running back in and handed me a holiday mask.  She went and got one for me.  I said, 'You didn't need to do that' and hugged her (yes even during COVID).  She said, 'You didn't need to spend your evening shopping with me.'  Merry Christmas!"
Wine Fundraiser: Joel Simon of Alluvial Beverage Company and Holly & Jim Witte, the former owners A Blooming Hill Vineyard, are liquidating 200 cases of wine. They have made this wine available to our club as a significant price break, with the proceeds benefiting the Foundation of the Rotary Club of Forest Grove.
Varietals being offered include their 2013 Pinot Noir, 2014 Pinot Noir Gemini, 2014 Pinot Noir Trouble, 2015 Pinot Noir Gemini, 2017 Pinot Noir Gemini, 2017 Pinot Noir Trouble, 2017 Pinot Gris and a 2018 Pinot Gris.
The wines will be sold by the case or half-case only. Case prices are $200 for any single varietal of red $150 for any single varietal of white. Half-cases are available for $100 for any single varietal of red and $75 for any single varietal of white.
The sale will take place on Wednesday, Dec. 30, from 4-6 p.m. at Jeff Duyck's warehouse on 19th Avenue between Main and Ash Streets. Please bring cash, check or credit card at the time of purchase. Wine purchases cannot be billed to your account by the club. No preorders.
Thank You Janet Peters & Allstate: Our sincere thanks to Rotarian Janet Peters, who has secured a $1,500 worth of grants from The Allstate Foundation to assist in two club projects. A portion will go to benefit Hope For The Holidays, while another portion will go towards the project to refurbish the barbeque built by the club at Rogers Park. Thank you Janet & Allstate! Read Full Story
Support Local Business: The Forest Grove/Cornelius Chamber of Commerce would like to encourage all the area businesses or individuals to purchase gift cards from the local restaurants who are in desperate need right now and donate those cards to the Forest Grove Food Bank who could also use some extra help in this especially critical time.  Whether you mail them or drop those cards off at the Chamber, we will make sure they get to those in need before the holidays are over. For more information, please contact Juanita Lint at the chamber at 503-357-3006 or director@visitforestgrove.com.
FGHS Community Food Pantry: Even with schools closed, the need for resources at the Forest Grove High School Community Food Pantry continues. Thanks to its partnership with the Oregon Food Bank, food donations are still welcome but are of less need at this time. Of need, however, are toiletries and hygiene products as well as household cleaning materials. There is a particular need for dish soap and laundry soap.
During the fall, the Food Pantry will be open on Mondays from 2- 4 p.m. Donations are accepted on-site on Mondays from 11 a.m. to 1 p.m. The pantry will remain open on Mondays over the Winter Break.
If you can donate any of the above items, please contact Brian Burke, bburke@fgsd.k12.or.us. If you wish to make a cash donation to the pantry, Click Here.
Additionally, Rotarian Gwen Hullinger has put together an Amazon wish list of items that can be purchased and donated. Click Here To View That List.
Rotary Phone Tree: The phone tree continues and has been re-shuffled to keep things fresh. The latest phone tree was emailed out last week. If you have questions, or if your information on the Phone Tree is not correct, contact Paul Waterstreet.
The goal of the phone tree is to reach out and check on every member of the club to make sure they are doing all right and to provide updates on club announcements and activities (Hint: You have a great list to draw from here). The plan is for the tree to be activated every Tuesday. The idea is that for each person to call the next one on the list. The last person on the list should call the team captain to make sure the list is complete.
Blood Drive Upcoming: St Anthony's Catholic Church will be partnering with the Red Cross for a blood drive on Tuesday, Jan. 26, from 11 a.m. to 4 p.m. in the church's parish hall at1660 Elm Street. Advance appointments are required and the Red Cross is adhering to strict COVID-19 safety protocols. To sign up for an appointment, please call 800-RED-CROSS or visit redcrossblood.org.
Past Programs: Did you miss a meeting or want to go back and check out a program again? Most of our programs since May are archived on our club YouTube page. Visit https://bit.ly/fgrotaryprograms.
Around District 5100
A Message From District Governor Jo Crenshaw (From December District Newsletter): Wishing you all a Safe Holiday Season!
My wandering continues; we are almost halfway through the journey and settling in for the long haul. As initial club visits are completed and the joy of joining in special projects continues, I want to take time to assess how far we have come and how much more we still would like to do as Rotarians.
• Efforts to support and strengthen our clubs are well underway through our active membership team.
• Increasing humanitarian service through the focus of our Foundation. Funds are over 50 percent achieved, but our PolioPlus fund requires additional focus. Polio is out of Africa with only two countries left with active cases. I am asking each of you to support our continued efforts to eradicate Polio worldwide.
• Enhancing our public image is a priority and will bring more awareness of Rotary, through improved signage, website and social media outlets.
I am so grateful for our teams, who have focused on assisting our fellow Rotarians through COVID, wildfires and social unrest. These Rotarians stepped up to assist and give of their time and expertise to show that Rotary truly believes there is good in the world.
I am truly grateful to all for the work that we have completed during this pandemic. Leadership, clubs, committees and the many volunteers who have stepped up to accomplish so much, to be real Rotarians in the midst of these unprecedented times.
Training and supporting the next leaders is one of our new priorities. We will continue to see what we can do to join other viable organizations to ensure Rotary's place in this world remains relevant.
BLESSINGS!
Jo
DG 2020-21
District 5100 Training Assembly: This year's District 5100 Training Assembly, which is typically an in-person event, will be delivered online once again this year due to the COVID-19 pandemic. Sessions that are specific to club and district positions are scheduled to be delivered on Saturday, Apr. 10. Sessions providing general topics to the entire Rotary membership are scheduled to be delivered on Saturday, Apr. 17. More details will be made available in the coming months.
Around Rotary International
Rotary's 2019-20 Annual Report Is Now Available: Rotarians and Rotaractors worldwide unite in service to improve communities near and far. Together, we promote peace; provide clean water, sanitation, and hygiene; support education; fight disease; save mothers and children; grow local economies; protect the environment; provide disaster relief; and eradicate polio. This work takes commitment, knowledge, leadership, and above all, determination to take action. Read more about the accomplishments of Rotary International over the last Rotary Year in the Annual Report at Rotary.org.
Service In Action – ShelterBox: "Unprecedented" must be one of the most used words in 2020 – mainly connected to the global impact of the coronavirus but also true of the number of extreme weather events around the world. For ShelterBox, Rotary's partner in disaster response, the end of the calendar year is busier than ever. The past few months have brought unprecedented weather activity. Read More
Note: The Rotary Club of Forest Grove is a longtime support of ShelterBox and recently renewed its commitment to the Rotary-partner organization by making ShelterBox a regular line item in the foundation budget.
Last Week's Program: No Program
We did not have a club meeting last week. Be sure to join us for our next regular meeting on Wednesday, Dec. 30.
Club Calendar
All Club Activities Are On Zoom Unless Otherwise Noted
Wed., Dec. 30: Weekly Meeting, Noon
Program: Maria Reyes, Oregon Zoo
Wed. Dec. 30: Wine Sale, 4-6 p.m.
Jeff Duyck's Warehouse, 19th Avenue between Main and Ash
Wed., Jan. 6: Weekly Meeting, Noon
Program: Peter Fry, End Poverty
Thurs., Jan. 7: Executive Board Meeting, 7 a.m.
Wed., Jan. 13: Weekly Meeting, Noon
Program: Eva Hawes, Washington County COVID-19 Update
Thurs., Jan. 14: Board Meeting, 7 a.m.
---