Rotary Rewind – May 25, 2022
Posted By admin
---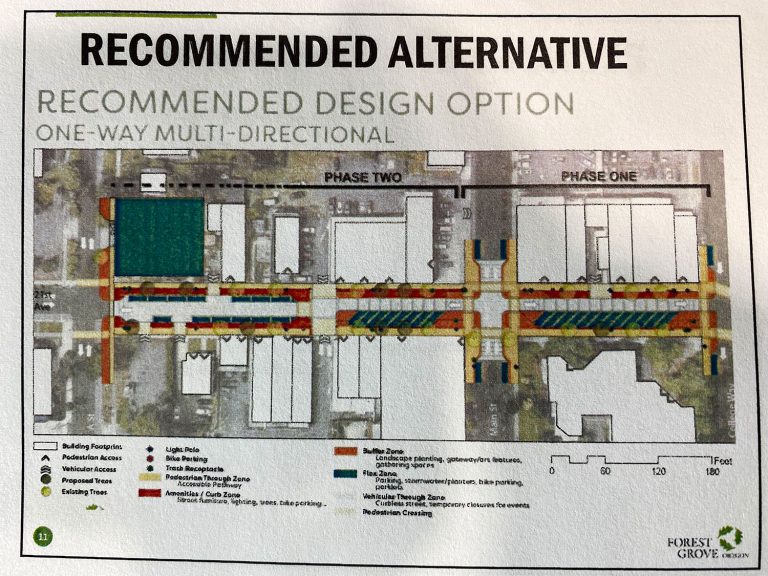 If you didn't make it to our last Rotary Club of Forest Grove meeting, here's what you missed…
Steak Feed: We are less than two weeks away from our annual Steak Feed! The 64th edition of this annual community event takes place on Friday, June 10, 5-8 p.m., at the University Center at Pacific University.
Tickets are $25 each and includes a choice New York steak, salad, baked potato, rolls, beverages and dessert. Proceeds from the event go to our club's involvement in the Rotary Youth Exchange program (which will also restart this year). It is the expectation that all Rotarians try to sell at least 10 tickets to the event. If you sell more, that is great!
Tickets can also be purchased locally at Ace Hardware, Van Dyke Appliance and the Forest Grove/Cornelius Chamber of Commerce. Tickets can also be purchased online until June 6 at https://fg-rotary-steak-feed.square.site/.
The Steak Feed is an "all-hands-on-deck" event, with all members expected to participate and help on the day of the event. A list of committee assignments is included with the ticket mailing and is Linked Here. Rotarians should contact their committee chairs over the next two weeks to secure their shifts.
For more information or questions, please contact Geoff Faris.
What Is Rotary Youth Exchange?: Newer members of Rotary may not know that Rotary International has a robust Youth Exchange program, providing the opportunity for high school-aged students the chance to study in another country. The Rotary Youth Exchange program was suspended for the last two years due to the COVID-19 pandemic but will return for the 2022-23 academic year.
Traditionally, our club has sponsored both an outbound student (going from our area to another country) and an inbound student (from another country to our club) each year. We have identified our outbound student for next year and will have information about her in an upcoming edition of the Rototeller.
For more information on the Rotary Youth Exchange program, visit the District 5100 Rotary Youth Exchange Website or contact our club's committee chair, Melinda Fischer.
Memorial Service For Jerry Hoerber: A celebration of life service for our friend and fellow Rotarian, Jerry Hoerber, has been scheduled for Saturday, June 18, 1 p.m., at the Forest Grove United Methodist Church, 1726 Cedar Street. Jerry was a member of our club for 33 years and passed away on January 13.
All three of our club members that we have lost this year, Jerry Hoerber, Bob Nixon and Joe Post, we honored over at the recent District 5100 One Rotary Conference in Seaside.
Concours Update: Planning for the 2022 Concours d'Elegance is well under way. Our annual car show, which raises funds for our club's Scholarship Program, will take place on Sunday, July 17, on the campus of Pacific University. This year's theme is a celebration of Jaguar. In addition, the show will showcase a salute to British Excellence with feature classes for MG, Triumph and Lotus.
Here are a few updates from the Concours committee:
Registration: Registration for this year's Concours is now open. Let's get as many cars out on the show field to help celebrate our return! There is a suggested entry donation of $25 per car. More details on entry classes and the registration link can be found at https://forestgroveconcours.org/enter.
Sponsorships: Tim Pearson has a goal of 100 sponsors for the show. "That's going to be a stretch but I think it is doable," Tim said, but he needs the help of club members to make it happen. A copy of the sponsorship flyer is Linked Here. If you have sponsorship questions or a lead, please contact Tim at 503-998-8616 or TimPearsonPC@gmail.com.
Concours Events: The Concours Committee is moving forward with a Friday night concert event to start the weekend. The concert will take place on July 15 at Elk Cove Vineyards near Gaston. Capacity will be limited to 200 people. More details will be coming soon.
The Evening of Excellence dinner will take place at the Pumpkin Ridge Golf Course on the evening of Sat., July 16.
For more information on the show, visit forestgroveconcours.org, or contact show chairman Ryan Garcia at rypgarcia@gmail.com.
As our club's primary fundraiser for the year, the Concours is an "all hands on deck" event with all club members expected to volunteer.
Online Dues Payments: Our club is now equipped to process dues payments online! We can now process credit card or debit card payments for quarterly dues. Information on how to pay online will be included with quarterly billings that will be coming to your mailbox or email inbox.
With the transition to billing with Quickbooks, some members may not have received their quarterly invoice. If you did not, please contact treasurer Lucas Welliver.
FGHS Community Food Pantry: Our club's support for the Forest Grove High School Food Pantry continues. Thanks to its partnership with the Oregon Food Bank, food donations are still welcome but are of less need at this time. Of need, however, are toiletries and hygiene products as well as household cleaning materials.
The Food Pantry is open on Mondays from 4-5:30 p.m. The pantry is now open in its new site in the building along Nichols Lane between the football field and the Basinski Center.
For information on the Food Pantry, please contact Brian Burke, bburke@fgsd.k12.or.us. If you wish to make a cash donation to the pantry, Click Here.
Additionally, Rotarian Gwen Hullinger has put together an Amazon wish list of items that can be purchased and donated. Click Here To View That List.
Past Programs: Did you miss a meeting or want to go back and check out a program again? Most of our programs since May 2020 are archived on our club's YouTube page. Visit https://bit.ly/fgrotaryprograms.
Around District 5100
District 5100 Rotary Foundation Update: An update on our District Grant for Emergency Ukraine Refuge Aid through the Polish Rotary Club of Biala Podlaska. At
last count, donations from 44 Rotary clubs from District 5100 with District Grant matching funds of $29,085 totaled more than $145,000. Many thanks to Rotarian Kris Akins and the Rotary Club of Portland Metropolitan for driving this District Grant. A second trip is planned in the fall to deliver the balance of funds.
What Can Your $100 Contribution to The Rotary Foundation Do?
Your $100 contribution to The Rotary Foundation can help provide textbooks for one elementary school in Zambia, provide a hearing aid for a deaf child in Pakistan, buy de-worming tablets for 112 children in the Philippines, pay for cataract operations for three blind people in India, or provide 230 blankets for the elderly in the winter months of Korea. Will you commit today to donating $100 or more per year to The Rotary Foundation and start making a difference in people's lives?
Thank you for your continued support of The Rotary Foundation.
Around Rotary International
Rotary Commits To Vaccinating The Vulnerable At The Second Global COVID-19 Summit: Rotary's strength in local communities and experience fighting polio can help get people who are still vulnerable vaccinated against COVID-19, Nigeria PolioPlus Chair Dr. Tunji Funsho said at a global summit about the pandemic that brought together heads of state, health officials, and philanthropic leaders.
The virtual summit on 12 May, hosted by Belize, Germany, Indonesia, Senegal, and the United States, sought to build on the goals of the first summit in September, including vaccinating more people, distributing more tests and treatments to high-risk countries, expanding the number of public health workers, and increasing funding for pandemic preparedness.
At a session focused on getting vaccines to the most vulnerable, Funsho spoke about Rotary's work in bringing polio to the brink of eradication and how the global immunization infrastructure can be used in the global COVID-19 response.
"Our local Rotary clubs can conduct social mobilization to communicate the benefits of immunizations and our person-to-person and door-to-door strategies can achieve extraordinary results when it comes to vaccine hesitancy," Funsho told the summit participants. "We are currently applying these same tactics to Rotary's COVID response in Nigeria and other African countries."
Vaccinating the world against COVID-19 requires the same sustained effort and commitment Rotary has demonstrated for decades in fighting polio, Funsho said. "We are positioned and ready to join, in partnership with others, to bring these resources and talents to vaccinate the world against COVID-19."
Global leaders at the summit committed about $3.2 billion in new funding to fight the pandemic. The total funding now includes nearly $2.5 billion for immediate response to the pandemic, and $962 million in commitments to a World Bank fund for pandemic preparedness and global health security.
Last Week's Program: Dan Riordan, Forest Grove Festival Street Project
Click Here To Watch The Full Program
Dan Riordan, a senior planner for the City of Forest Grove, joined us to talk about the proposed Festival Street Project that would take place along 21st Avenue between College Way and A Street.
The idea of a festival street for community events goes back to the downtown resource plan that was created in 2007. The plan identified 21st Avenue because it has great views of Pacific University to the east and the Coast Range to the west. With the city's urban renewal plan in place, there is now funding in place to help make the plan a reality.
After study, the Festival Street Plan would create a one-way traffic on 21st Avenue with traffic moving towards Main Street on both ends. Traffic from A Street would move east to Main Street and traffic from College Way would move west. Both segments would have angled parking as opposed to the current parallel parking. The plan is considered the most effective solution and the most friendly to pedestrians.
The proposed project is divided into two segments. The first segment would run from Pacific University to just past Main Street. The second segment could continue from that point to A Street. The plan would not permanently close 21st Avenue but would allow the street to be closed for community events.
One issue with the project is how the plan will impact parking downtown. The parking issue is being looked as part of the plan.
The first phase of the Festival Street Project will cost between $1.5 and $2 million. The range of cost will depend on the type of materials used in the project (for example, pigmented asphalt instead of pavers for crosswalks). Phase two would cost between $1.975 and $2.6 million. The project could be partially funded by the city's urban renewal program, the city street fund, transportation development, storm fund and the transient lodging tax.
More information on the Festival Street Project is available online at https://www.forestgrove-or.gov/urban/page/festival-street-project.
Club Calendar
Wed., June 1: Weekly Meeting, Noon
Boxer Pause Room, University Center, Pacific University
Program: Jim Moore, Pacific University, "Politics in the age of climate change."
Wed., June 8: Weekly Meeting, Noon
Boxer Pause Room, University Center, Pacific University
Program: Rotary Scholarship Recipients Plus Steak Feed Prep
Thurs., June 9: Executive Board Meeting, 7 p.m.
Via Zoom
Fri., June 10: Steak Feed, 5 p.m.
Pacific University Campus
Sun., July 17: Concours d'Elegance
Pacific University Campus
---