Rotary Rewind – Oct. 17, 2018
Posted By admin
---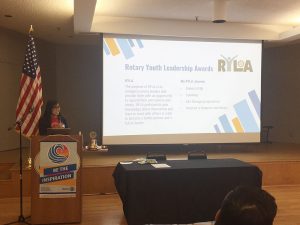 Rotary Rewind – October 17, 2018
If you didn't make it to this week's Rotary Club of Forest Grove meeting, below is an overview of what you missed.
Announcements
Satellite Club Meeting Postponed: The regularly scheduled Satellite Club Meeting/Thirsty Thursday function has been postponed to Thurs., Oct. 25. This month's meeting will be held at Prime Time, 4450 Pacific Ave., Forest Grove. For more information, please contact Stan Reasoner.
Forest Grove High School Donation: It was our honor to present a check for $3,757 to the Forest Grove High School Associated Student Body. The check will go to fund senior t-shirts for the entire senior class. The shirts will feature the Rotary Club of Forest Grove logo along with this year's Rotary theme, Be The Inspiration.
Youth Citizen of the Month: It was also our honor to present the first Youth Citizen of the Month awards for the Rotary year. Our congratulations to this month's honorees from the Forest Grove School District: Joey Hernandez-Rodriguez of Neil Armstrong Middle School and Hannah Lindsay of Forest Grove High School! A story on both honorees will be posted soon on the Forest Grove Rotary webpage, fgrotary.org.
Be The Inspiration: This week's Be The Inspiration Award recipient is Geoff Faris, as selected by Jim Cain. Congratulations Geoff!
Harvest Festival: Rotarians are being asked to help with the Ridgewalker Harvest Festival, which will take place on Sat., Oct. 27. We will assist with set-up and takedown for the festival along with staffing some game booths that evening. The event is a fundraiser for World Help, of which Rotarian Tara Cirlincione is on the Advisory Board. Proceeds will go to drill water wells in third-world countries. For more information, contact Tara.
Panhandling For Polio: As part of World Polio Day on Wed., Oct. 24, members of the Pacific University Rotaract Club will be doing a Panhandling For Polio event at the Forest Grove Farmer's Market. If you will be downtown that afternoon, please help support our Rotaractors!
Rotary Foundation Update: To date, club members have contributed a total of $2,200 towards The Rotary Foundation and $665 towards PolioPlus. We have a good start on reaching our club goals of $9,000 for TRF giving and $1,500 towards PolioPlus giving. Thank you!
Wednesday's Program: Lichao Chen
Many of you may remember Lichao Chen from her involvement with the Pacific University Rotaract Club. Now a graduate of Pacific, Lichao is active with District 5100 as the district's Rotaract liaison and presented on Wednesday about her trip to the North American RYLA event last July in Washington, D.C. Her trip was funded in part by our club.
This was Lichao's third RYLA experience. She attended the District 5100 RYLA in 2014 and was a facilitator at RYLA in 2016. This year's North American RYLA event saw almost 30 countries represented. Among the activities included visits to a number of international embassies, a RYLA expo showcasing the work of Rotaract clubs from around the world, a cultural show and, of course, time for fellowship.
Among the many conversations had at the event was thoughts on what service project Rotary should focus on once polio is eradicated.
Lichao said that the trip to the North American RYLA helped her see the bigger picture of that Rotary and Rotaract is globally and the connections that can be made around the world.
Club Calendar
Wed., Oct. 24
• Rotary Weekly Meeting, Noon, University Center at Pacific University
Program: Danielle Issac, Life Coach on Life Mastery
• Pacific University Rotaract Panhandling For Polio fundraiser at Forest Grove Farmer's Market.
Thurs., Oct. 25
• Thirsty Thursday/Satellite Club Meeting, 6:30 p.m., Prime Time, 4450 Pacific Ave., Forest Grove
Sat., Oct. 27
• District 5100 LAUNCH Membership & Public Image Seminar, 8 a.m.-3 p.m., Shilo Inn Portland Airport.
• Forest Grove Harvest Festival, downtown Forest Grove (to volunteer, please contact Tara Cirlincione).
Upcoming Programs
Wed., Oct. 31: Lori James-Neilsen & Kim Leathley, Tuality Healthcare Foundation
Wed., Nov. 7: PDG Tom Marcos, Rotary Foundation
Wed., Nov. 14: Melissa Erickson, Adelante Mujeres
---