Rotary Rewind – Oct. 20, 2021
Posted By admin
---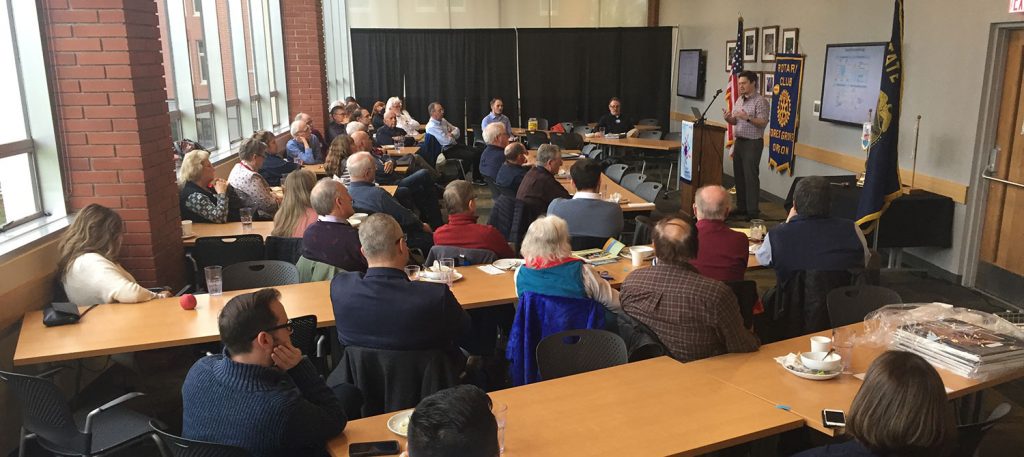 If you didn't make it to our last Rotary Club of Forest Grove meeting, here's what you missed…
We Are Back In Person!: At long last, we are finally in a place where we can restart our weekly meetings at Pacific University! Our first noon in-person meeting will take place on Wednesday, October 27 in the Boxer Pause in the University Center at Pacific University. Our program will be the official visit for District Governor Jim Boyle.
For the safety of everyone involved, Pacific University is asking that anyone attending in-person meetings follow the following safety protocols:
• All persons who attend in-person meetings on campus are required to be vaccinated against COVID-19.
• Masks are required at all times while you are on the Pacific University campus, unless you are actively eating.
• If you are experiencing any of the symptoms associated with COVID-19, please stay home and join us via Zoom. Click Here For Symptoms.
• If you have been in close contact with an individual who is a confirmed or presumptive COVID-19 case, or have tested positive for the virus yourself, follow the quarantine guidance from the Washington Country Health Department.
These rules will help keep our members and community safe and will allow us to meet in person after such a long time apart.
If you cannot attend or do not feel comfortable attending in-person, Click Here On Information On How To Join Us Via Zoom.
Wreath Sale Fundraiser: For the second year, our club is conducting a holiday wreath fundraiser that will directly benefit our annual Hope For the Holidays service project! The greens are being provided by Fischer Greens, which is run by our own Rotarian Melinda Fischer.
The fundraiser is offering 20-inch wreaths for $30 each and 28-inch wreaths for $40 each. Orders are due by Friday, November 12 with wreaths available for pickup by members on Saturday, December 4. Submit your orders to Janet Peters. You can contact Janet with any questions.
A flyer to promote the wreath sale is attached to this week's Rototeller and social media announcements will be out in the coming days.
Welcome Seth Berdahl!: The Rotary Club of Forest Grove is proud to welcome Seth Berdahl as the club's newest member. Seth was inducted as the club's monthly evening meeting on Wednesday, October 20.
A native of Forest Grove, Seth is a seventh-generation Oregonian. He is a graduate of Forest Grove High School and the University of Oregon. Before the COVID-19 pandemic, Seth lived and worked in Seattle, but remote work opportunities provided him the opportunity to move home.
Seth spends two hours per week on his main priority: coaching a Forest Grove youth running team, and uses the rest of his time to work for Microsoft. On the weekends, Seth works on rehabbing his 1904 house in Old Town Forest Grove, very, very slowly.
Congratulations Jeannine!: We are extremely proud that our own Jeannine Murrell has been selected to lead District 5100 as District Governor for the 2024-25 Rotary Year! The announcement of her selection was made at last Wednesday's evening meeting.
Jeannine has been a member of the Rotary Club of Forest Grove since 2003 and served as club president for the 2015-16 Rotary Year. At the club level, she has served as a member of the scholarship committee, on the board of directors, as membership chair and as sergeant at arms.
At the district level, Jeannine has previously served as assistant governor for the Central West Region and current serves as the administrative district governor for current District Governor Jim Boyle. Jeannine also chaired the 2017 District Training Assembly, which was received with rave reviews.
Jeannine will be the fourth Rotarian from our club to serve as district governor, joining William McCready (1959-60), Raymond Miller (1969-70) and George Horner (1979-80).
Forest Grove Partnering With Lake Oswego On International Project: The Rotary Club of Forest Grove Board of Directors voted to partner with the Rotary Club of Lake Oswego on an international project. Called Project Flourish, the project is based with the MAIA Impact School in Guatemala, which strives to teach girls, and particularly girls of Mayan descent, to finding their empowered voice and to embrace what education can do for them.
Guatemala has the worst gender equity gap in the Americas. This initiative centers on the creation and implementation of an educational program to connect talent with opportunity for first-generation "Girl Pioneers" (young women born into situations of quadruple discrimination as rural, poor, female, and Indigenous) in Guatemala. The elements of this program center on the following:
● Formal internships to generate experience and informed decision-making
● Preparation for university entrance exams
● Training on soft skills for job interviews and workplace readiness/success
● Workplace English & IT training to increase employability
This project creates a powerful pilot that will serve 42 girls and their families (approximately 336 people). These girls and families represent over a dozen rural villages in Sololá. Once created, the project will continue in perpetuity to serve generations of young women who will break out of poverty.
The project is partially funded through a Rotary International Global Grant. We will have a program on this impactful project later this fall.
ShelterBox HERO Club: Once again, our club has been recognized by ShelterBox USA as a ShelterBox Bronze Level HERO Club! The recognition signifies our club's continued commitment to donate $1,000 per year to ShelterBox over a three-year period. We are truly grateful for the commitment of our members to continue to give to ShelterBox's ongoing disaster relief efforts all over the world.
ShelterBox is an official Rotary partner. You can learn more about what the organization is doing around the world by Visiting The ShelterBox Website. Our own ShelterBox ambassadors, Jeannine Murrell and Pamelajean Myers, gave a program to the club on the organization in June, which can be Viewed Here.
Online Dues Payments: Our club is now equipped to process dues payments online! We can now process credit card or debit card payments for quarterly dues. Information on how to pay online will be included with quarterly billings that will be coming to your mailbox or email inbox soon.
With the transition to billing with Quickbooks, some members may not have received their quarterly invoice. If you did not, please contact treasurer Lucas Welliver.
FGHS Community Food Pantry: Our club's support for the Forest Grove High School Food Pantry continues. Thanks to its partnership with the Oregon Food Bank, food donations are still welcome but are of less need at this time. Of need, however, are toiletries and hygiene products as well as household cleaning materials.
The Food Pantry is open on Mondays from 4-5 p.m. The pantry is now open in its new site in the building along Nichols Lane between the football field and the Basinski Center.
For information on the Food Pantry, please contact Brian Burke, bburke@fgsd.k12.or.us. If you wish to make a cash donation to the pantry, Click Here.
Additionally, Rotarian Gwen Hullinger has put together an Amazon wish list of items that can be purchased and donated. Click Here To View That List.
Past Programs: Did you miss a meeting or want to go back and check out a program again? Most of our programs since May 2020 are archived on our club's YouTube page. Visit https://bit.ly/fgrotaryprograms.
Around District 5100
District 5100 Inclusion, Diversity, Equity & Accessibility Task Force Open Forum: At the request of last year's District Governors, District 5100 created a Taskforce to further RI's goals (link to RI statement) for Inclusion, Diversity, Equity, and Accessibility (IDEA). The IDEA Taskforce's chartering document has been approved by the District Governors and we are ready to provide you with support for your club.
In the spirit of inclusion, we would like to introduce the members of the Inclusion, Diversity, Equity, and Accessibility Taskforce and hold an open symposium to determine how we can best serve your club.
Please join us on October 26, 2021 from 6:00 pm – 7:30 pm. You can sign up here.
When it comes to Inclusion, Diversity, Equity, and Accessibility, we would like to know:
1. What are your concerns when it comes to addressing IDEA?
2. What are you excited about for RI's new direction?
3. What activities, speakers, and concepts have already worked for your club?
4. What resources would be most helpful to your club?
5. Is your club interested in assisting the IDEA Taskforce?
Your input will be vital to helping us address District 5100 matters and issues. With your help, we can ensure we are creating a safe, welcoming, and inclusive space for potential new members as District 5100 clubs improve their local communities.
Rotary Story Slam: One of the most effective ways to introduce people to Rotary is by telling your story. District 5100 is holding a competition, called Your Rotary Story Slam, encouraging you to share your Rotary story.
A "story slam" is a competition based on the art of storytelling. You will present a 3-5 minute oral story without notes. This year's topic is "Serve to Change Lives." Share a time where Rotary service changed your life, a time you've changed a life or have been part of an impactful project. The story should be yours – authentic, true and fit The Four-Way Test.
Our club will have its own Story Slam competition within the next two months. Club-level winners will compete in a regional story slam over the winter. The winners from each region will present at the District 5100 Conference and will receive a $500 cash prize.
Our club will take submissions for the Rotary Story Slam through November and we hope to have some presented at this Wednesday's meeting. The club is offering 100 Paul Harris Fellow points to every member that participates. The winning story from the club will receive 500 Paul Harris Fellow points in addition to moving on in the competition.
For more information, visit rotarystoryslam.com.
Save The Date: District 5100 Rotary One Conference: Mark your calendars for May 19-22 as District 5100 will present its first combined Spring Training Event and annual conference in Seaside. The combined conference will provide Rotary training opportunities, inspirational speakers and a celebration of what is hoped to be a great year in District 5100.
Around Rotary International
The Best Chance To Eradicate Polio Is Now: "There's something about the whole idea of eradicating polio that grabs the imagination," says Aidan O'Leary. "Most people talk about making steps toward achievements, and it's almost always into the never-never. Eradication is a zero-sum game; anything short of zero is failure. You keep getting closer and closer, but ultimately the only number that actually matters is zero."
Although O'Leary, the polio eradication director for the World Health Organization, is speaking from his home in Galway, against the verdant backdrop of western Ireland, his focus is on war-torn Afghanistan and the parched and dusty plains of Pakistan — the last two places on the planet where wild polio still thrives.
Even during a pandemic, even as grim realities confront him, O'Leary conveys a sense of optimism about the possibility of finally eradicating polio. "Particularly in the days of COVID-19, there is something that really resonates about snuffing out a highly communicable infectious disease," he says. "As COVID has taken off, it has also led a lot of people to better understand why now is the time to finish this job with polio."
Yet O'Leary's optimism is shaded with a sense of urgency and pragmatism. "There is absolutely no case for complacency here," he says. "What is really important is that we double down on reaching the persistently missed children who are a top priority for our program."
O'Leary, who began his tenure as WHO's polio chief in January, came into the job knowing the terrain well. He formerly led UNICEF's polio eradication efforts in Pakistan and was the head of the United Nations Office for the Coordination of Humanitarian Affairs in Afghanistan, Iraq, Syria, and Yemen, organizing the UN's emergency response during crises. Read More
Club Calendar
Wed., Oct. 27: Weekly Meeting, Noon
Boxer Pause, University Center, Pacific University
Program: District Governor Jim Boyle
Wed., Nov. 3: Weekly Meeting, Noon
Boxer Pause, University Center, Pacific University
Program: Michael Yakos, Rotary Foundation Update
Thurs., Nov. 4: Executive Board Meeting, 7 a.m.
On Zoom
Wed., Nov. 10: Weekly Meeting, Noon
Boxer Pause, University Center, Pacific University
Program: Rotary Story Slam Video & Voting
Thurs., Nov. 11: Board Meeting, 7 a.m.
On Zoom
---