Rotary Rewind – Sept. 11, 2019
Posted By admin
---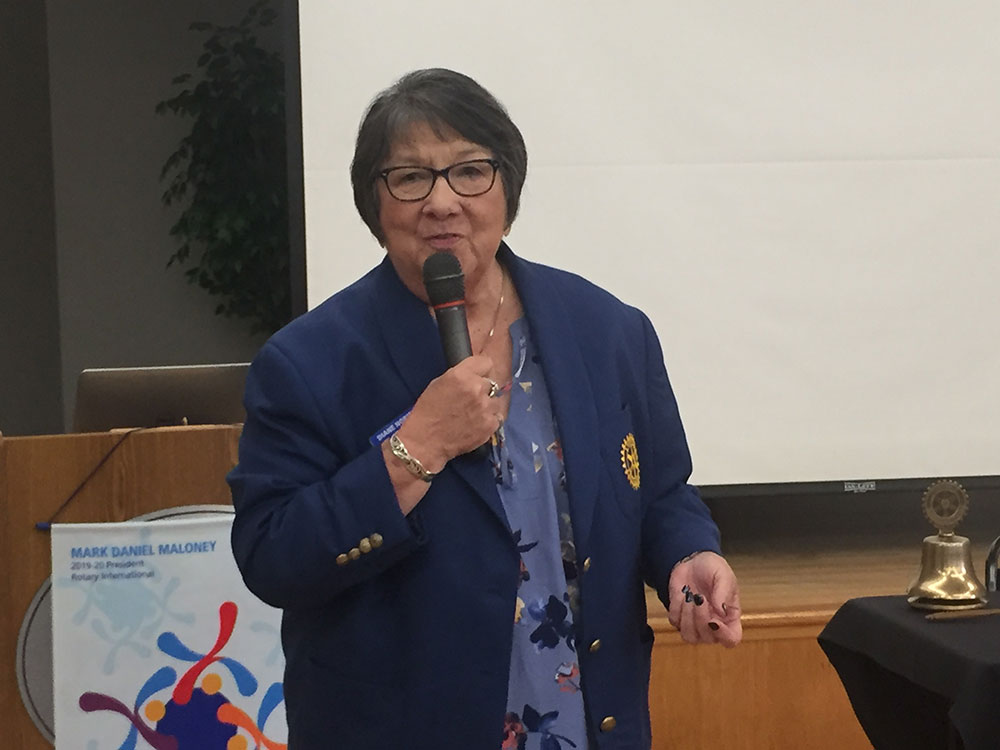 If you didn't make it to this week's Rotary Club of Forest Grove meeting, here is what you missed.
Club Announcements
Pacific University Rotaract Update: Recruiting at the Pacific University club fair for our Pacific University Rotaract Club was a huge success! Club president Alesha Casayuran and secretary Kiley Igarashi reported meeting their goal of signing up 80 people interested in the club. An estimated 20-25 were scheduled to attend the club's first meeting of the year on Thursday. The induction for new members to the Rotaract Club will take place on campus on Thurs., Oct. 10. Members of our club are invited to attend. Thank you to club members who came out to support Rotaract and help serve ice cream to hungry students!
Road Cleanup: Our next semiannual road cleanup is scheduled for Saturday, Oct. 3. We will begin at 8:30 a.m., and will meet at the Oregon Department of Forestry Office at 801 Gales Creek Road. All club members who participate in the cleanup will receive a ticket to an upcoming Pacific University football game courtesy of Andrea Stewart! We hope to see you there.
For those of you who do not know, our club has adopted two stretches of road as part of the Washington County Adopt-A-Road Program: Gales Creek Road from Thatcher Road to Forest Gale Drive and Thatcher Road from Gales Creek Road to David Hill Road. Started by Jerry Hoerber, the club has been cleaning up these sections of road for 27 years!
New Members: We had the pleasure of inducting two new members into our club on Wednesday: Chris Barron (sponsored by Amy Tracewell) and John Hausinger (sponsored by Michelle Thomas).
Chris Barron is new to Forest Grove and will be the business development officer for Wauna Credit Union (currently under construction at Pacific Ave., & Hwy. 47). A Northwest native, born and raised in Portland, Chris decided to join Rotary because he sees so many of his personal values reflected in the values of Rotary. A lifelong musician and singer, Chris has sang in choirs since he was a child and also plays piano and the saxophone. He has had the pleasure of singing in the Cathedral of Notre Dame and at the World War II Memorial in Normandy, France. Welcome Chris!
John Hausinger is employed as a personal banker with Wells Fargo. Originally from Seattle, John and his wife moved to Forest Grove in the fall of 2018. He can't get enough of the beauty of the Pacific Northwest and is looking forward to playing a bigger part in the community through service. His career goal is to become a financial advisor that works in the personal banking sector. Welcome John!
Satellite Club Meeting: Our next Thirsty Thursday will be held on Thurs., Sept. 19, the McMenamin's Grand Lodge in the Pat's Corner outdoor area at 6:30 p.m.
Have A Program Idea?: If you have an idea for a program or would like to present something yourself, let our program chair, Julia Kollar, know. She will also have a program planning board at meetings so you can see what is on deck and what dates may be available.
Next Week's Duty Roster: Make note of your assignment!
Greeters: Dayna Mullins & Lazaro Villegas
Thought for the Day: Jim Cain
Rototeller Article: Kevin Harmon
Raffle Prize: Amy Tracewell
District Announcements
World Polio Day: World Polio Day is coming up on Thursday, Oct. 24.  Since 1988, we've seen a worldwide reduction in polio cases of 99.9%. For more than two years we've seen wild polio cases in only two countries. Afghanistan and Pakistan. For more information on how Rotary is making a difference, please visit: https://www.endpolio.org/
Last Week's Program: District Governor Diane Noriega
Diane Noriega, District Governor 2019-2020, met with our club to learn more about what we are doing and to share her perspective on how to build on our successes as a district. Diane was born and raised in Santa Barbara, California. Educated at the University of California Santa Barbara and Davis Campuses, Diane spent over 25 years in higher education serving as a professor of education, dean of education, provost and ultimately interim president at Cal State Monterey Bay before retiring in 2009.
Diane served as Gresham Rotary president in 2011-12 and again in 2016-17. For the past three years, she has served District 5100 as Membership Chair. She and her late husband Carlos are both Paul Harris Society members and Major Donors to The Rotary Foundation.
She asked our club to name the achievements we are most proud of and she received the following answers: our car show, youth exchange, scholarships, our work with the Peace Village, Hope for the Holidays, our steak feed, crab feed, and being a ShelterBox HERO club.
Diane talked about three things each club needs to be aware of in order to be great. Those three things are branding, Foundation and membership.
The Rotary Foundation provides a 50 percent return on our investment in the form of District and International grants. And the Foundation has been instrumental in helping ensure Rotary has the funds it needs to continue our service projects at home and around the world.
Our service projects wouldn't get off the ground without the people to run them. That's where membership comes in. We need to bring in new members, which our District does a good job of, but we also need to keep those members. This is something that still needs work.
Some members asked about how we can help with the efforts in the Bahamas. Diane indicated that there is a link on Rotary International's website if you would like to give. And, remember, Shelter Box is already on the ground there so donations to them will also help.
Diane ended with, "I am Rotary, and you are too!"
People Of Action Award: As part of her presentation, Diane presented a district People of Action award to Jeannine Murrell. A very active member and past president of our club, Jeannine also serves the district as assistant governor for Central West region, covering Lake Oswego and Tigard, and is a ShelterBox ambassador.
Club Calendar
Wed., Sept. 18: Weekly Meeting, Noon, Pacific University (Boxer Pause)
Program: City of Forest Grove Economic Update
Thurs., Sept. 19: Board Meeting, 7 a.m., Forest Grove Chamber Office
Thurs., Sept. 19: Thirsty Thursday/Satellite Club Meeting, 6:30 p.m., McMenamins Grand Lodge (Pat's Corner)
Wed., Sept. 25: Weekly Meeting, Noon, Pacific University
Program: Piper Stewart, Rotary Youth Exchange
Sat., Oct. 3: Road Cleanup Service Project, 8:30 a.m., Oregon Department of Forestry, 801 Gales Creek Road.
---