Rotary Rewind – July 31, 2023
Posted By admin
---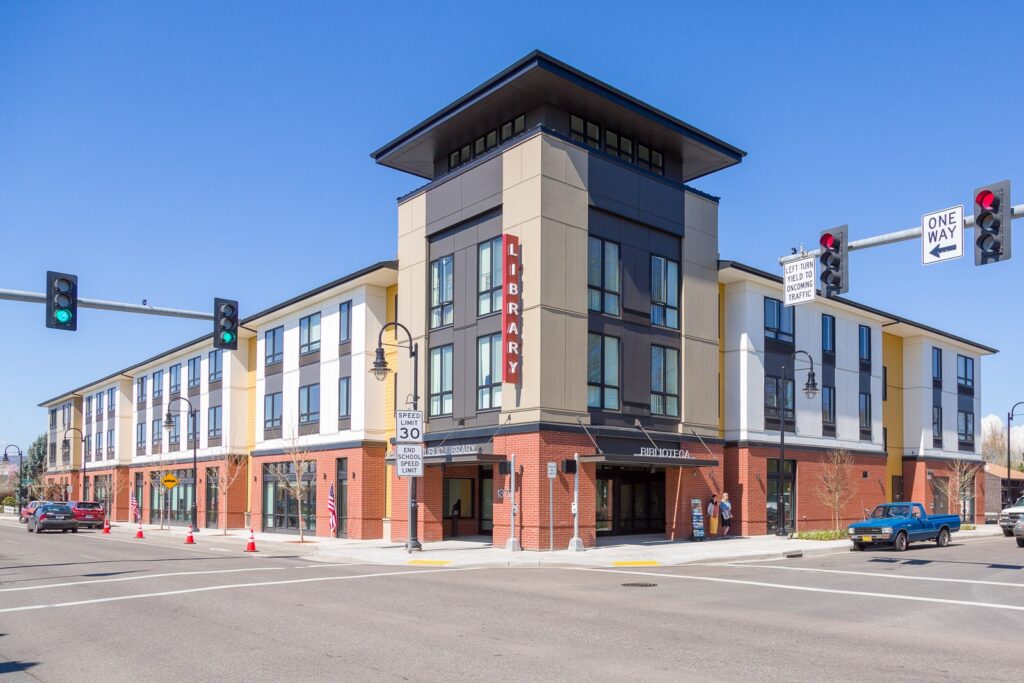 If you did not make it to our last Rotary Club of Forest Grove meeting, here is what you missed…
This Week (And Future Weeks) At The Cornelius Public Library: With construction taking place at Pacific University, and our regular meeting space being utilized as classrooms, our weekly meetings will be off campus for the foreseeable future. Beginning this week, our regular meeting place will be the Cornelius Public Library, 1370 N. Adair St., Cornelius. Please plan your Wednesdays accordingly.
Name Badges – The Rules Have Changed: With the fact that we will be moving to the Cornelius Public Library the next few months, members were asked to take their badges home with them at last week's meeting. Normally, we would fine members for taking their badges home…but it is now the opposite. Please bring your own badge to the meeting to avoid a $1 fine. All fine money collected goes towards the club's contribution to the PolioPlus fund.
If you were unable to pick up your name badge when we were at Pacific, please let President Amy or our secretary, Janet Peters, know to see if arrangements can be made.
Save The Date – Golf Tournament: Mark your calendars for Wed., Aug. 16, as we conduct our annual golf tournament at Sunset Grove Golf Course. Join us for this social event and nine holes of golf with some unique rules to make it fun (such as teeing off from your knees, hitting blindfolded, etc.). Non-Rotarians are welcome to participate. Lunch for all members will be available at noon with the golf portion of the day commencing at 1 p.m.
A sign-up sheet will be distributed during our weekly meetings. You can also contact Tim Schauermann. Tim needs to let Sunset Grove know by the end of this week how many will be attending and playing.
Concours d'Elegance – Thank You: Thank you to all of our members who made our 49th Concours d'Elegance another great success! We had a great day at Pacific University with some great weather and over 300 classic cars on campus. We are grateful for all that each of our Rotarians did to make the weekend, from vineyard concert to tour to show, another incredible event. Information on how we did to support our Scholarship Program and community outreach efforts in the coming weeks.
If you are interested in getting further involved with the Concours, the steering committee is always looking for volunteers to prepare through the show throughout the years. For more information, contact Tom Raabe at 503-704-1200 or rotarytomr@gmail.com or Geoff Johnston at 503-939-7868 or gamsma@comcast.net.
Nyuzen Sister City Recognition: The City of Forest Grove's Sister City Committee is looking for local businesses who would like to participate in a video celebrating the 70th anniversary of the city's sister city relationship with Nyuzen, Japan.
The video would involve local businesses holding a 70th anniversary banner and will be presented in Japan to the people of Nzuyen in late September. Filming takes just a few minutes and can be done on August 11 or August 16.
If you are interested in participating with this project, please contact Pat Truax at 503-310-7740 or pattru2003@yahoo.com and she will schedule a time with you. Thank you in advance for your support of the sister city program.
Past Programs: Did you miss a meeting or want to go back and check out a program again? Most of our programs since May 2020 (over 100 videos to date) are archived on our club's YouTube page. Visit https://bit.ly/fgrotaryprograms.
Service Opportunities For Club Members
Community Action/Daybreak Rotary Service Project: The Forest Grove Daybreak Rotary Club is asking for assistance with a service project that the club is conducting with Community Action in Hillsboro. Community Action is refurbishing a five-bedroom house that will serve as transitional housing for unhoused people who are moving into permanent housing situations.
Daybreak Rotary is purchasing furniture from Ikea that will be delivered to the home and assembled on site. Many hands are needed to assemble the furniture to help make the home ready for occupancy.
If you are able, the furniture building party will take place this Tuesday, Aug. 1, at 9 a.m. at the house at 210 SE 2nd Ave., Hillsboro. If you are able to participate of have any questions, please contact Leann Garrison from the Daybreak Club at 503-804-7938 or our community service chair, Michael Cook, at 503-806-6077.
Corn Roast: The Forest Grove/Cornelius Chamber of Commerce's annual Corn Roast & Harvest Festival will take place on Saturday, Sept. 16, from 10 a.m. to 4 p.m. along 21st Avenue and College Way adjacent to the Pacific University campus. The chamber, as they do every year, is looking for volunteers to help with set-up, takedown, trash collecting and more.
If you are interested in volunteering, please visit the event's Volunteer Sign-Up Page to select your spot. If you have any questions, please contact Claudia Yakos at 503-720-8133 or info@fgchamber.org.
FGHS Community Food Pantry: Our club's support for the Forest Grove High School Food Pantry continues.  Thanks to its partnership with the Oregon Food Bank, food donations are still welcome but are of less need at this time. Of need, however, are toiletries and hygiene products as well as household cleaning materials.
During the summer, the Food Pantry is open Mondays from 2-3:30 p.m. The pantry will be closed on July 24 and Sept. 4. The pantry is located along Nichols Lane between the football field and the Basinski Center. Click Here for more information on the FGHS Food Pantry and on other resources for those experiencing food insecurity.
For information on the Food Pantry, please contact Brian Burke, bburke@fgsd.k12.or.us. If you wish to make a cash donation to the pantry, Click Here.
Additionally, Rotarian Gwen Hullinger has put together an Amazon wish list of items that can be purchased and donated. Click Here To View That List.
Around District 5100
District 5100 IDEA Committee – Invitation To Participate: With such great feedback from attendees of our last several trainings, the IDEA (Inclusion, Diversity, Equity, and Accessibility) Committee would like to invite anyone who is interested to join us for a short online Diversity and Inclusion training and sharing seminar on August 8, 2023.
We will also discuss how IDEA principles relate to club growth and retention, share resources, and invite all of you to share some of your stories, both successes and failures, related to putting IDEA principles into practice with your organizations.
If you would like to join us, please use the meeting link.
IDEA Committee Meeting
Tuesday, August 8, 2023
6:00pm to 7:30pm
A direct link to the Zoom meeting is available in the District 5100 Newsletter sent to Rotarians earlier in July.
Vibrant Club Workshop: Club leaders (and anyone looking to help Rotary grow) should mark their calendars for Saturday, Sept. 30, for District 5100's Vibrant Club Workshop. Designed to help club's grow and become more educated about Rotary, the workshop will go over foundation work, public image, membership and much more. Information on time and location will be forthcoming.
District 5100 Newsletter: Click Here To View The Monthly District 5100 Newsletter
Around Rotary International
Past RI President Jonathan B. Majiyabe Dies At 88: Jonathan B. Majiyagbe, a past Rotary International president who was passionate about growing Rotary everywhere — especially in Africa — and about eradicating polio, has died at age 88.
Majiyagbe, who died 27 May at a hospital in Abuja, Nigeria, served as Rotary International president in 2003-04. He was the first and so far the only RI president from Africa. The continent was declared free of wild polio in August 2020, due in part to his tireless advocacy and efforts.
Under the presidential theme Lend a Hand, Majiyagbe called for alleviating poverty to be the top priority for his presidential term. "As Rotarians, we must open our eyes to see those around us who cannot afford shelter, health care, food, and other essentials," he wrote in the July 2003 issue of The Rotarian. "We must address these problems with compassion and pragmatism."
To represent this idea in the presidential theme logo, Majiyagbe "clearly wanted the two hands featured in the design to be on the same level so that the person receiving is equal in standing with the person giving the aid," said longtime friend and 2019-20 RI President Mark Daniel Maloney.
A lawyer by profession, Majiyagbe joined Rotary in 1967. He was a member of the Rotary Club of Abuja Metro and a past member of the Rotary Club of Kano. In addition to his term as RI president, he served as a director, Rotary Foundation trustee, and trustee chair. He served on several committees, including the International PolioPlus Committee, the Nigeria PolioPlus Committee, and the Reach Out to Africa Committee.
"He was an epitome of integrity and imbued with extraordinary intellect," said longtime friend Tunji Funsho, a past chair of the Nigeria PolioPlus Committee. "I will miss the warmth of his presence and drinking from his deep well of wisdom."
Funsho called Majiyagbe a mentor and role model, lauding his patience, humility, kindness, and forgiving spirit.
"As a man of faith, he kept service and charity close to heart," said Maloney, who served as Majiyagbe's presidential aide for nearly three years. "I observed Jonathan's remarkable skills and talents. He celebrated the eradication of polio on the African continent, a goal to which he faithfully worked well beyond his time as president."
Maloney also noted the great strength Majiyagbe exhibited after his first wife, Ade, died suddenly in June 2003 just as he was about to begin his presidency. Maloney and his wife, Gay, stayed with Majiyagbe during that time. "He persevered and gave life to the term, the 'family of Rotary.' He was keen for Rotarians to provide friendship and support to the families of Rotarians who had suffered a loss or illness."
Majiyagbe earned a law degree from the University of London and was a member of the Bar of England and Wales. He was principal partner in the firm J.B. Majiyagbe and Co., which had a wide commercial law practice in Kano and Abuja. Majiyagbe was also a senior advocate of Nigeria, a title conferred on those who have distinguished themselves in the practice of law.
He was a member of the Body of Benchers, the panel responsible for screening and admitting lawyers to the Nigerian Bar. He served on the interim judicial service committee of Kano State, was a past vice president of the Nigerian Bar Association, and was a member of the International Bar Association.
Majiyagbe was a former chancellor of the Anglican Diocese of Kano, chair of the Kano branch of the Nigerian Red Cross Society, and a member of the Kano Chamber of Commerce, Industry, Mines and Agriculture. In 2008, he was awarded the Order of the Federal Republic of Nigeria.
He was also a Major Donor and Benefactor of The Rotary Foundation with his spouse, Ayo. Majiyagbe received The Rotary Foundation's Citation for Meritorious Service and the Distinguished Service Award.
Majiyagbe is survived by Ayo, as well as his son, Folorunso, and three grandchildren. Memorial contributions may be made to The Rotary Foundation.
This story was originally published on the Rotary.org website.
Last Week's Program: Claudia & Michael Yakos, Gardens of Hope
Click Here To Watch The Full Program On YouTube
The Gardens of Hope international service project in central Mexico continues to grow as it enters its third year. Claudia & Michael Yakos, who have been the driving forces behind this project, provided an update last week.
The goal of Gardens of Hope is to provide impoverished families in Central Mexico the means and knowledge over time to grow their own gardens that can be sustained over time. The goal of the sustainable gardens aligns with the local governmental goals for non-profits, allowing the project to effectively partner with government.
Every family accepted into the program receives a kit with a full irrigation system for 71.75 square yards of land, fertilizer, insecticide and recipes to make more; manual with farming and sowing instructions, how and rake, iron mesh, etc. The cost of the kit runs about $190 (U.S.).
Technical experience team provides guidance twice per month to share experience and learning. The team walks along with families to help ensure the success of the gardens.
The communities serve are located around Rincon de Ramos, Aguascalientes, Mexico. There are multiple families served in El Bajio (7), El Saucillo (2), Mar Negro (6) and Puerta del Muerto (5). Over the life of the project, 40 families have been involved in the project with 33 committed to be involved next year.
The Rotary Club of Aguascalientes, Mexico is a partner club for this international project.
The project began on Mar 6, 2021 with 40 kits delivered at the first meetings in each community. The first families were selected by local government social services. At those meetings, the technical assistance team and local authorities attend that first meeting.
The main purpose of the project is to help families feed themselves with the food they produce and diversify their sources of nutrition. They derive this benefit by saving money they would normally spend buying food at their local store. Families can gain extra income by selling some of their produce.
In October 2021, members of the Rotary Clubs of Forest Grove and Aguascalientes met with residents in Librada Orozco girls home to establish gardens on the acreage around the home. Gardens of Hope was able to partner with a local John Deere dealer to bring in equipment to till the land. A local Rotaract Club continues to help with maintaining the project.
The eventual goal is to be able to apply for a Rotary Global Grant to further the reach of Gardens of Hope. To do a global grant project well, Claudia felt that there needed to be a few years under their belt to be able to show data of success. This year, Gardens of Hope will be sending letters to other clubs around District 5100 asking for assistance in funding the project. Over last year, our club contributed $1,400 towards the project.
Club Calendar
Wed., Aug. 2: Weekly Meeting, Noon
Cornelius Public Library, 1370 N. Adair St., Cornelius
Program: William Howe, SAGE Citizen Project
Wed., Aug. 9: Weekly Meeting, Noon
Cornelius Public Library, 1370 N. Adair St., Cornelius
Program: Carl Heisler & Tim Schauermann, Club History
Thurs., Aug. 10: Executive Board Meeting, 7 p.m.
via Zoom
Wed., Aug. 16: Golf Tournament
Lunch at noon, golf at 1 p.m.
Sunset Grove Golf Course, 41615 NW Osterman Rd., Forest Grove
Thurs., Aug. 17: Board Meeting, 7 a.m.
via Zoom
---