Rotary Rewind – Oct. 22, 2023
Posted By admin
---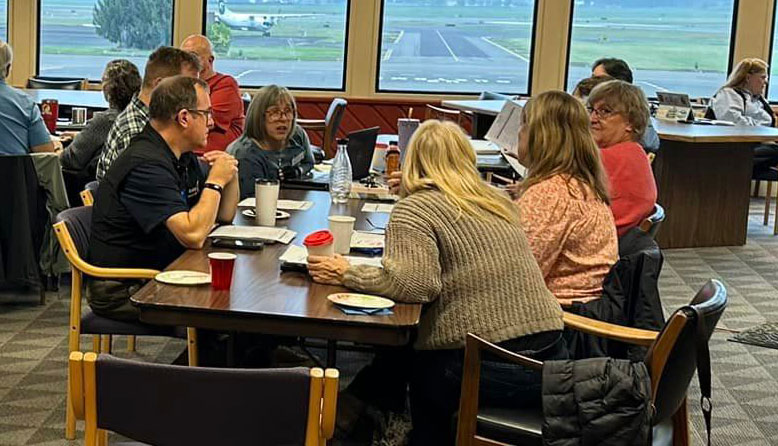 Club members engage in conversation during the District 5100 Western Region Board Leadership Training in Hillsboro on Oct. 21. Photo by Tom Raabe.
If you did not make it to our last Rotary Club of Forest Grove meeting, here is what you missed…
This Week – At Forest Grove UCC: This week's meeting, and all of our meetings during the month of October, will be held at the Forest Grove United Church of Christ, 2032 College Way (across the street from Pacific University). Join us as Blue Barbour-Weiss comes to talk about her Rotary Youth Exchange experience last year to Ecuador.
Changes To Lunches: After receiving feedback from the club and discussion by the board of directors, lunches will once again be made available at weekly meetings. In order to provide for an accurate head count (and not waste food), confirmation for lunch orders must be received by secretary Janet Peters by the Saturday before each week's meeting. A sign-up sheet will be available at weekly meetings or you can RSVP to Janet Peters via email.
Plan Ahead – Holiday Cancellations: In order for Rotarians and their families to celebrate the upcoming holidays, our club will not meet at its regular Wednesday time on the following dates: Wed., Nov. 22; Wed., Dec. 20 and Wed., Dec. 27.
McDougall Garden Work Party: It's time to put the McDougall Garden (a.k.a Rotary Garden) to bed for the fall. A work party will take place on Saturday, Oct. 28, beginning at 8:30 a.m. at the garden, located in between Pacific and 19th Avenues by the big flag pole at the east end of Forest Grove. Please bring rakes, gloves and other gardening tools to assist. Coffee and donuts will be provided. Please contact Geoff Faris with any questions.
Hope For The Holidays Wreath Fundraiser: Once again, we are holding a wreath fundraiser to raise funds for our annual Hope For The Holidays service project in December. As in years past, these wreaths are made by Rotarian Melinda Fischer. A 20-inch wreath costs $30 and a 28-inch wreath is $40.
Orders are due by Friday, Nov. 3 and should be submitted to Janet Peters via email, phone or text. Wreaths will be available for Rotarians to pick up on Saturday, Nov. 25. Checks should be made out to the Rotary Club of Forest Grove. Sorry, we cannot accept credit or electronic payments at this time. A flyer that you can print and a form to keep track of your orders are attached to this week's Rototeller.
Youth Citizens of the Month: Over the last two weeks, we have the honor of restarting our Youth Citizen of the Month program after a three-year COVID hiatus. Last week, we honored our two recipients from Banks, Sawyer Peters from Banks Middle School and Ireland Wilson of Banks High School. They were both honored at our Oct. 18. Emilia Aguirre of Neil Armstrong Middle School was honored at our Oct. 11 meeting.
A long-standing program with the Rotary Club of Forest Grove, the Youth Citizen of the Month program recognizes local eighth-graders and high school seniors who possess high standards of personal behavior and good citizenship, exemplify the ideals of Rotary, follow school rules and have excellent behavioral records. The Youth Citizen of the Month awards is rotated between the area's three local school districts: Forest Grove, Banks & Gaston.
Board Leadership Training: Our club was incredibly well represented at the District 5100 Western Region Board Leadership Training that was held on Saturday in Hillsboro. We had 11 members attend, the largest representation of any of the four Western Region clubs. The training provided valuable discussion on how our board can work better to lead the club and make Rotary stronger overall.
Thanks to those members who attended: President Amy Tracewell, President-Elect Lucas Welliver, President-Elect Nominee Andrea Stewart, Past President/Secretary Janet Peters, Executive Secretary Claire Agner, Board Members Melinda Fischer, Evelyn Orr and Pamelajean Myers; District Governor-Elect Jeannine Murrell, Assistant Governor Tom Raabe and incoming Assistant Governor Blake Timm.
Road Cleanup: Thank you to all Rotarians and friends who came out for our semi-annual road cleanup on Saturday, Oct. 14. There were plenty of hands on deck and the cleanup took less than an hour to complete. Thank you to the following members and friends who took part: Claire Agner, Al Weiss, Benson Stewart, Jerrod Stewart, Janet & Rus Peters, Jim Cain, Todd Kelley, Lucas Welliver, Paul & Diana Waterstreet, Andrea Stewart, Melinda Fischer, Tim Pearson, Scott McKee, Jim Crisp and Greg Nemchick.
Part of the Washington County Adopt-A-Road Program, our club's involvement in this effort stretches back almost three decades. Our club has adopted Gales Creek Road between Thatcher Road and Forest Gale Drive, and Thatcher Road between Gales Creek Road and David Hill Road. Our thanks to Paul Waterstreet and Andrea Stewart for coordinating this service effort for our club!
Concours d'Elegance Committee: The Concours d'Elegance Committee is starting the planning for our 50th show on July 21, 2024. If interested in getting further involved with the Concours, the steering committee is always looking for volunteers to prepare for the show throughout the year. For more information, contact Tom Raabe at 503-704-1200 or rotarytomr@gmail.com or Geoff Johnston at 503-939-7868 or gamsma@comcast.net.
Forest Grove Football Senior Photos: Once again, our club is making available senior portraits of Forest Grove High School football seniors to display in their place of business. After the season, the portraits will be presented to the seniors and their families at the team's year-end banquet. The pictures cost $25 each to display. If you are interested in taking part in the program, contact Geoff Faris.
PolioPlus Fundraiser: With World Polio Day coming up on October 24, our club is doing a simple fundraiser to go towards our club's goal of raising $3,000 towards the PolioPlus fund. At Wednesday's meeting, a red club with Rotary logos was handed out to members. You are encouraged to either put the club out at your place of business or simply place your own spare change in it. Cups will be available at meetings over the next two weeks and funds will be collected on Wednesday, Nov. 1. Thank you for doing your part to put an end to polio forever.
Past Programs: Did you miss a meeting or want to go back and check out a program again? Most of our programs since May 2020 (over 100 videos to date) are archived on our club's YouTube page. Visit https://bit.ly/fgrotaryprograms.
Service Opportunities For Club Members
Do You Know Of Service Opportunities?: Are you aware of service opportunities in our area that our members might be interested in? We can advertise those here! This space is not limited to club-sponsored activities but to any service opportunity in the community. To promote the service activity, please send a detailed description of the project, the date and time, contact information and a link to register to Rototeller editor Blake Timm, blakertimm@gmail.com.
FGHS Community Food Pantry: Our club's support for the Forest Grove High School Food Pantry continues.  Thanks to its partnership with the Oregon Food Bank, food donations are still welcome but are of less need at this time. Of need, however, are toiletries and hygiene products as well as household cleaning materials.
The Food Pantry is open Mondays from 4-5:30 p.m. The pantry is located along Nichols Lane between the football field and the Basinski Center. Click Here for more information on the FGHS Food Pantry and on other resources for those experiencing food insecurity.
For information on the Food Pantry, please contact Brian Burke, bburke@fgsd.k12.or.us. If you wish to make a cash donation to the pantry, Click Here.
Around District 5100
District 5100 Statement On The Israeli/Gaza Conflict: By now I am sure that you have all heard of the violence in Israel.  It is a travesty that so many lives have been destroyed due to violence. 
We in District 5100 have watched and continue to stay alert to the developing situation in the Middle East with a mixture of horror and anguish.  Our hearts are filled with sadness for the loss of life, and for those families who lost loved ones.  We abhor violence against all.
We encourage and support the clubs and will promote RI's initiatives.  Change happens at club level.  Initiatives happen there too.  We challenge everyone to identify what can be done to change outcomes for the future.  When this conflict is over, what steps can each of us take to bring a permanent, sustainable change that will result in a more peaceful tomorrow?  We Rotarians are uniquely capable of convening parties in conflict while applying the four-way test in the search for solutions.  Furthermore, we commit to non-violent resolution of conflict. It is long past time to replace violence with peace.
Renee Brouse
District Governor
District 5100 Newsletter: Click Here To View The Monthly District 5100 Newsletter
Around Rotary International
Morocco Earthquake Response Fund: As a global humanitarian organization, Rotary continually takes action to help communities in need. Because you are a Rotary leader, we want you to be among the first to know that The Rotary Foundation has established a temporary Morocco Earthquake Response Fund to support immediate assistance efforts through disaster response grants.
We'll begin fundraising efforts soon to finance the grants, which will be available specifically to areas affected by the 6.8-magnitude earthquake on 8 September that killed several thousand people, injured even more, and destroyed an estimated 50,000 homes.  
The Morocco Earthquake Response Fund will accept contributions, including District Designated Funds (DDF), until 31 December and will distribute grants until 21 September 2024 or until the funds are spent. Any unused money will be transferred to the general Disaster Response Fund. 
Districts affected by the devastation in Morocco can apply for grants to provide items such as water, food, medicine, shelter, and clothing. To learn more and help these communities, you and your members can: 
We appreciate your support of Rotary member-led projects to help these communities at the times when they need our assistance the most. 
Sincerely, 
Barry Rassin
2023-24 Trustee Chair
The Rotary Foundation
Last Week's Program: Club Assembly – Hope For The Holidays
In addition to honoring our Youth Citizens of the Month from the Banks School District, we held a club assembly last week to provide details on this year's Hope for the Holidays service project. Janet Peters and Parri Van Dyke led the discussion.
For the first few years of the project, Hope for the Holidays provided a $500 gift card to selected families, usually to Walmart in Cornelius, that the families could use for holiday gifts, food or other essentials. A shopping night was held at Walmart where Rotarians assisted the families in shopping.
The project changed last year from the shopping spree model to providing holiday meals through our partnership with the Forest Grove High School Food Pantry. The change was made for a number of reasons. It became increasingly difficult for Rotary and its partner groups to identify families that qualified for the program. It was a challenge to coordinate the shopping night and, for some, the idea of Rotarians walking around helping families shop was a little awkward. Additionally, the use of District 5100 Matching Grants does not allow for the purchase of gift cards.
The new approach of providing holiday meals, tried for the first time last year, had a number of benefits. Working with the FGHS Food Pantry, there was no longer a need to screen families for participation. The use of gift cards was eliminated. The meals also impacted many more people. While shopping sprees went to 20 families annually, the meals benefitted 100 families in 2022.
In 2023, Hope for the Holidays is scheduled to take place on Monday, Dec. 11, which will be the last distribution date at the FGHS Food Pantry before the holiday break begins. There will be a need for Rotarian volunteers to assist with the delivery of food from Winco in Hillsboro to the food pantry and with the distribution of food to families.
Last year, the majority of the food was purchased at or near wholesale from Winco. The committee plans to work with Winco again this year. The meals included a ham, potatoes, vegetables, pies and other holiday meal fixings. Last year's funds also included a bag of toiletry items and cleaning products for each family. Janet and Parri indicated that those will not provided in 2023.
Hope for the Holidays is funded with $2,500 of seed money from the club and a $2,500 matching grant from District 5100. Wreath sales and donations from members will make up the rest of the funding.
Club Calendar
Wed., Oct. 25: Weekly Meeting, Noon
Forest Grove United Church of Christ, 2032 College Way
Program: Blue Barbour-Weiss, Rotary Youth Exchange Year In Ecuador
Sat., Oct. 28: McDougall Garden Work Party, 8:30 a.m.
McDougall Garden, Between Pacific Ave. & 19th Ave. Near The Big Flagpole
Wed., Nov. 1: Weekly Meeting, Noon
Forest Grove United Church of Christ, 2032 College Way
Program: Miles Glowacki, City of Forest Grove Economic Development
Wed., Nov. 8: Weekly Meeting, Noon
Forest Grove United Church of Christ, 2032 College Way
Program: Geoff & Alisa Johnston and Tom Raabe, Concours d'Elegance Recap
Thurs., Nov. 9: Executive Board Meeting, 7 p.m.
via Zoom
---