Rotary Rewind – Sept. 18, 2023
Posted By admin
---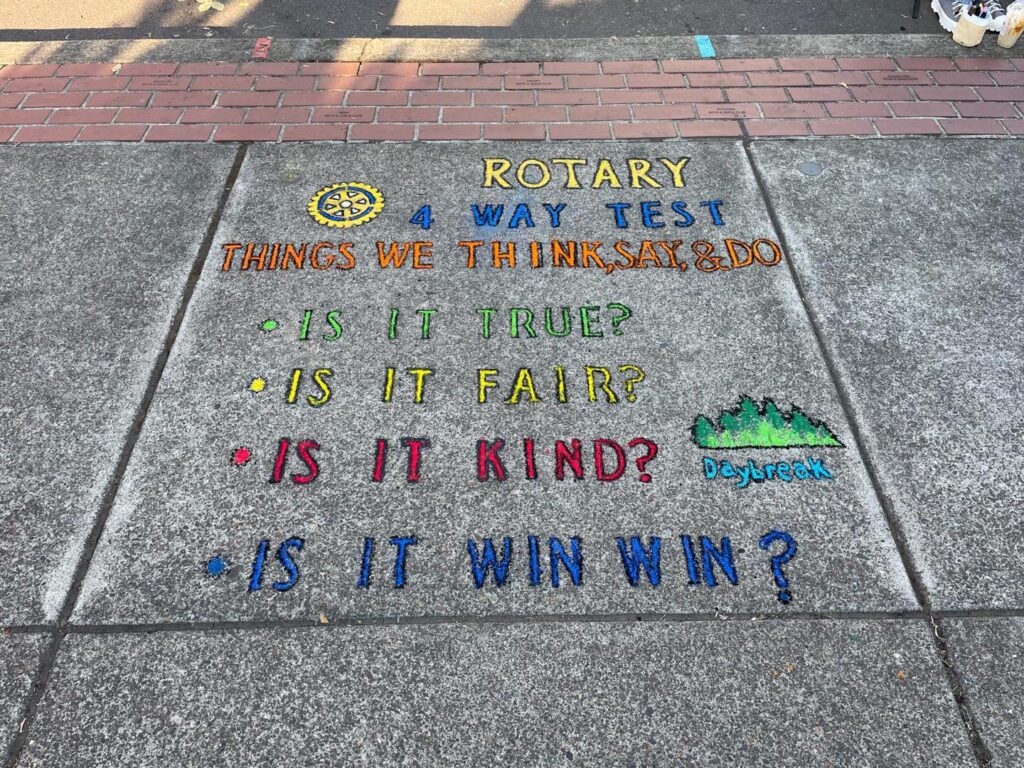 A paraphrase of The Four-Way Test at the Forest Grove Chalk Art Festival courtesy of our friends at the Forest Grove Daybreak Rotary Club. Photo by Jeannine Murrell.
If you did not make it to our last Rotary Club of Forest Grove meeting, here is what you missed…
This Week's Meeting: This week's Rotary Club of Forest Grove meeting will take place at Spiesschaert Farms, 3150 NW Thatcher Rd., Forest Grove. We will meet at our usual time of noon. If you plan to attend and have not ordered lunch, please contact Howard Sullivan via email by no later than Tuesday. We hope to see you all there!
Next Week – Golf Tournament: Our annual golf tournament will take place next week, Wed., Sept., 27 at the Sunset Grove Golf Course. There is still time to sign up and participate. A lunch and meeting for all members will take place at noon with the best-ball tournament beginning at approximately 1 p.m. Rotarians and friends of the club are welcome to participate. To sign up, please contact Tim Schauermann by no later than this Friday.
Maui Wildlife Relief – Your Help Is Needed: August 9, 2023 was a tragic day for Rotarians, families and friends on the Island of Maui. The fires across the island have changed lives forever. Our sympathy, thoughts and prayers are with everyone impacted.
As people of action, we can take immediate action. As we come together to recover and rebuild, we need to support each other. We need to Create Hope for Maui.
Through our Rotary District 5000 Foundation, a relief fund has been established. Foundation President Dave Hamil and Treasurer Sharon Amano will handle all donations. The Rotary District 5000 Foundation is a 501c3 organization and all donations are considered charitable.
A committee will be organized shortly to find the greatest needs for distribution of monies. Monies will be used to make the largest impact based on needs and will be sustainable. A single fund will be the most helpful over time to provide the greatest significant benefits.
Please consider donating to this special fund. Click Here To Donate To The Rotary District 5000 Foundation Maui Fire Relief Fund.
Stay safe, take care and mahalo as we Create Hope for Maui.
Mark Merriam
Rotary Club of Metropolitan Honolulu
District Governor, Rotary District 5000
Name Badges – The Rules Have Changed: With the move to the Cornelius Public Library, members were asked to take their badges home with them at last week's meeting. Normally, we would fine members for taking their badges home…but it is now the opposite. Please bring your own badge to the meeting to avoid a $1 fine. All fine money collected goes towards the club's contribution to the PolioPlus fund.
If you were unable to pick up your name badge when we were at Pacific, please let President Amy or secretary Janet Peters know to see if arrangements can be made to reunite you with your badge.
Concours d'Elegance Committee: If you are interested in getting further involved with the Concours d'Elegance, our annual car show, the steering committee is always looking for volunteers to prepare for the show throughout the year. For more information, contact Tom Raabe at 503-704-1200 or rotarytomr@gmail.com or Geoff Johnston at 503-939-7868 or gamsma@comcast.net.
Fun Run For Family Justice Center: The Family Justice Center of Washington County, which presented to our club earlier in 2023, is holding a fundraising Run For Hope on Sunday, Oct. 8. The five-kilometer race will begin and end at Hare Field in Hillsboro. The run and walk is free of charge but donations are suggested to help the center's charge to serve survivors of domestic violence in our community. For more information or to register, Click Here.
Ride For Rotary: Rotary District 3181 is reaching out Rotarians for motorcycle ride/drive event in India to promote international fellowship and exchange of Rotary views. With proceeds benefitting The Rotary Foundation, the first seven editions of the ride raised over $150,000 for the foundation. This year's event runs from Jan. 5 to 20, 2024. Registration is due by Sept. 30. To learn more or to register, visit rideforrotary.com.
Past Programs: Did you miss a meeting or want to go back and check out a program again? Most of our programs since May 2020 (over 100 videos to date) are archived on our club's YouTube page. Visit https://bit.ly/fgrotaryprograms.
Service Opportunities For Club Members
Do You Know Of Service Opportunities?: Are you aware of service opportunities in our area that our members might be interested in? We can advertise those here! This space is not limited to club-sponsored activities but to any service opportunity in the community. To promote the service activity, please send a detailed description of the project, the date and time, contact information and a link to register to Rototeller editor Blake Timm, blakertimm@gmail.com.
Forest Grove Oktoberfest: The City Club of Forest Grove will be conducting its third annual Oktoberfest on Saturday, Sept. 23, 1-7 p.m., in downtown Forest Grove. This family-friendly event is expected to be larger than ever with vendors, activities, music food and beverage.
There are also a number of volunteer opportunities to help make the event a success. There is specific need for more alcohol monitors, a person to work the information kiosk, disabled parking attendants and event takedown at the end of the evening. Volunteers will receive a free t-shirt and either a 2023 Oktoberfest commemorative stein or a food voucher.
If you are interested in volunteering, Visit The Oktoberfest Volunteer Page for available shifts. For questions, contact Donna Gustafson at cityclubofforestgrove@gmail.com.
FGHS Community Food Pantry: Our club's support for the Forest Grove High School Food Pantry continues.  Thanks to its partnership with the Oregon Food Bank, food donations are still welcome but are of less need at this time. Of need, however, are toiletries and hygiene products as well as household cleaning materials.
During the summer, the Food Pantry is open Mondays from 2-3:30 p.m. The pantry will be closed on July 24 and Sept. 4. The pantry is located along Nichols Lane between the football field and the Basinski Center. Click Here for more information on the FGHS Food Pantry and on other resources for those experiencing food insecurity.
For information on the Food Pantry, please contact Brian Burke, bburke@fgsd.k12.or.us. If you wish to make a cash donation to the pantry, Click Here.
Rotary Basics
The exciting world of Rotary can be a little complicated and complex. We are highlighting some of the history and function of Rotary in this Rotary Basics section. We will also present a term from our Rotary Glossary in an attempt to demystify some of the terms and acronyms that may have you wondering. Whether a new Rotarian or a veteran to the club, we hope you will find this informative.
The Four-Way Test
Perhaps the most important guiding principle of Rotary, the Four-Way Test does not have its origins in Rotary itself but in a Rotarian who sought to save his company in the midst of the Great Depression.
In 1932, Herbert Taylor took over Chicago's Club Aluminum Company, charged with saving the company from bankruptcy. He knew that changing the company's fortunes meant changing the ethical climate of the company. A Christian, Taylor penned the 24 words that all Rotarians know today.
Is it the TRUTH?
Is it FAIR to all concerned?
Will to build GOODWILL and BETTER FRIENDSHIPS?
Will it be BENEFICIAL to all concerned?
After testing on himself for 60 days, Taylor shared The Four-Way Test with four of his department heads, all of whom were of different religious faiths. All agreed with his credo. With The Four-Way Test as the guiding principle, Club Aluminum went from $400,000 in debt to generating $1 million in dividends in just a few years' time.
Taylor gave rights to use The Four-Way Test to Rotary International in the 1940s and the copyright in 1954. In addition to Rotary, a number of businesses use The Four-Way Test as a guiding principle. That includes Walgreen's, introduced to the company by Charles R. Walgreen, Jr., in 1955.
From The Rotary Glossary
AG: Assistant Governor. An assistant governor is part of a district's administrative team, working as a regular liaison between district leadership and club leadership. There are 12 assistant governors working with District 5100's 69 clubs. The assistant governor for the district's Western Region, which includes our club, is our own Tom Raabe. Our own Blake Timm will assume the role for the 2023-24 Rotary year.
Around District 5100
Vibrant Club Workshop: Club leaders (and anyone looking to help Rotary grow) should mark their calendars for Saturday, Sept. 30, 8:30 a.m.-12 p.m., for District 5100's Vibrant Club Workshop. The location for Western region clubs will be the Christ United Methodist Church, 12755 NW Dogwood, Portland. Designed to help clubs grow and become more educated about Rotary, the workshop will go over foundation work, public image, membership and much more. Information on location will be forthcoming. Click Here To Register
Board Leadership Training: District 5100 is offering a board leadership seminar this fall. This training is geared towards current club officers and board members but is open to any Rotarian who is interested in club or district leadership. The training is scheduled for Saturday, Oct. 21, with time and location to be determined. This three-hour long training will touch on financial stewardship, club goals, action plans, management and much more.
District 5100 Newsletter: Click Here To View The Monthly District 5100 Newsletter
Around Rotary International
Classrooms Wired For Success (by Geoffrey Johnson, from September Rotary magazine): It began, in Panama, with a simple backpack drive.
The Rotary Club of Panamá Norte loaded the packs with essential supplies and distributed them to grade schools throughout the country, a classic Rotary service project repeated in communities around the world. In this case, though, it led to something extraordinary — momentous changes in Panama's education system.
The spark that ignited it came from what the Rotary members witnessed while delivering those backpacks about 10 years ago. "One of the things that we saw was the disaster in terms of technology and in terms of the possibility of kids being able to learn with technology," says club member Enedelsy Escobar-King. "Most of the time what we found was that all of the computers were destroyed, or they were to be discarded, or that teachers didn't know how to use them."
Over the next few years, club members continued to deliver backpacks but also laid the groundwork for a larger project to address the high-tech disaster they had encountered. Specifically, they turned their attention to two grade schools in Veracruz, a corregimiento (or township) about 10 miles southwest of Panama City, where the club is based.
Working with the Rotary Club of Westchester (Los Angeles), the Panamá Norte club put together a global grant that received $72,000 from The Rotary Foundation, District 5280 (California), the club itself, and other sources. Among other things, it provided each school with 30 laptops for students; a smart, interactive whiteboard to digitize classroom presentations and tasks; and all the auxiliary hardware and furniture required for a high-tech, 21st-century classroom. To ensure the project's success, the grant also provided for extensive training of school staff and community leaders.
The club launched the project in 2018, and the new equipment and opportunities for learning were immediately embraced by teachers and students. At the end of the 2019 school year, the project had, by all appearances, been a success. One of the schools that participated was even chosen to take part in a countrywide academic competition, a first for the school and, despite failing to win, a laudable achievement.
Yet an unexpected problem arose. "The teachers that we had trained for the interactive classrooms were rotated out," a regular practice in Panama's public schools, says Escobar-King. "And the teachers that were new didn't have a clue about technology. We had to start all over again and try to train those teachers. When we got that setback, we said, well, let's find a more permanent solution."
For Escobar-King and the rest of Panamá Norte, class was back in session.
Escobar-King — she goes by "Nelly" — joined the Rotary Club of Panamá Norte in 2015 after a long career with UNICEF. Some projects she worked on with UNICEF were related to education, so when she retired and returned to Panama, she knew she wanted to remain involved in that area.
Escobar-King was motivated, in part, by the dire state of primary education in Panama. She points to the results of the exams known as the Programme for International Student Assessment that are conducted by the Organisation for Economic Cooperation and Development. In the most recent results, Panama ranked 75th in science and 76th in math among 78 countries and geographic areas and 71st (out of 77) in reading.
With that in mind, as well as the unexpected development of the teacher shakeup in Veracruz, the Rotary Club of Panamá Norte posed an important question: "How can we get teachers already trained so that no matter where they are sent, they already have the technological tools they could use?" Read More
This story was originally published on the Rotary.org website.
Club Calendar
Wed., Sept. 20: Weekly Meeting, Noon
Speisschaert Farms, 3150 NW Thatcher Rd., Forest Grove
Thurs., Sept. 21: Board Meeting, 7 a.m.
via Zoom
Wed., Sept. 27: Golf Tournament (rescheduled from August)
Lunch at noon, golf at 1 p.m.
Sunset Grove Golf Course, 41615 NW Osterman Rd, Forest Grove
Wed., Oct. 4: Weekly Meeting, Noon
Location TBA
Program: Chris Regilski, U.S. Bureau of Reclamation
Wed., Oct. 11: Weekly Meeting, Noon
Location TBA
Program: Riley Stewart, RYLA
---