Rotary Rewind – Jan. 30, 2019
Posted By admin
---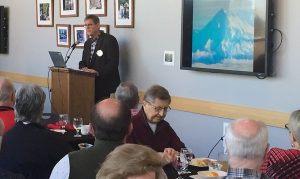 If you didn't make it to this week's Rotary Club of Forest Grove meeting, below is an overview of what you missed.
Announcements
Mike Ward Community Service Award: Nominations are now open for the club's Mike Ward Community Service Award, which will be presented at the Crab Feed on Wed., Mar. 27. The award honors a non-Rotarian who has demonstrated longtime service to the community. Nomination forms can be picked up at a club meeting or can be Downloaded From The Club Website. The deadline for nominations is Fri., Mar. 1.
Peace Village: Our club and the Forest Grove Rotary Daybreak Club have both received District 5100 Matching Grants to help towards our club's joint Peace Village project. The camp, which will target middle school students in teaching skills in conflict resolution, media literacy, connections with nature and mindfulness, will take place in August. The project is a joint between our Rotary Club and the Forest Grove Daybreak Rotary Club. If you are interested in learning more or getting involved in the planning process, see Loren Waltz, Blake Timm or Julia Kollar. To learn more about Peace Village, Visit Their Website.
Rotary Foundation Update: To date, club members have contributed a total of $3,705 towards The Rotary Foundation and $1,285 towards PolioPlus. We are a third of the way towards reaching our club goals of $9,000 for TRF giving and $1,500 towards PolioPlus giving. Thank you!
Silent Auction at Crab Feed: In order to help raise funds for our Rotary Foundation giving, we will have a silent auction as part of the Crab Feed on Wed., Mar. 27. If you have a great item (think beach house weekend, experience, cool item, etc.) that you would be willing to donate, please contact Michelle Thomas, michelle.thomas@fgiis.com.
Are You Close To A Paul Harris?: We will be honoring our latest Paul Harris Fellow recipients at the Crab Feed on Wed., Mar. 27. Are you close to your first or next Paul Harris? Be sure to contribute by no later than the end of February so that you can be recognized. Not sure how close you are? Contact our foundation chair, Michael Yakos, myakos@yahoo.com.
Be The Inspiration Award: This week's Be The Inspiration Award winner is Geoff Johnston, as chosen and presented by Jerry Hoerber. Congratulations Loren!
Have A Program Idea?: We have made the transition for program chairs with Julia Kollar starting her term. If you have an idea for a program or would like to present something yourself, let Julia know. She will also have a program planning board at meetings so you can see what is on deck and what dates may be available.
Next Week's Duty Roster: Make note of your assignment!
Greeters: John Schrag & Gail Sheelar
Thought for the Day: Loren Waltz
Rototeller Article: John Schrag
Raffle Prize: Joe Post
Wednesday's Program: Rob Foster
It is always great to hear from our Rotarians about their experiences. On Wednesday, we had the opportunity to hear from one of our own, Rob Foster. Rob has been a member of the club since 1995 and recently retired as the director of public works for the City of Forest Grove.
In November, Rob had the unique opportunity to travel to Pakistan. It was a special trip for Rob and his sister, with a number of family connections. His parents and grandparents had both lived in the part of India that is now Pakistan, working as Presbyterian missionaries, and Rob's grandfather had founded schools and a hospital in Pakistan.
Club Calendar
Sat., Feb. 2: Road Cleanup, 8:30 a.m., ODF Office, 801 Gales Creek Rd.
Wed., Feb. 6: Weekly Meeting, Noon, Pacific University
Program: Dr. Lesley Hallick, Pacific University Update
Tues., Feb. 12: Concours d'Elegance Committee Meeting, 7 p.m., FG Chamber
Upcoming Programs
Wed., Feb. 13: Daughter's Day – Irene Trent-Valencia, Cyprus Friendship Project
Wed., Feb. 20: Jim Crisp & Mike Hundley – Mike Ward & the Mike Ward Award
Wed., Feb. 27: Program TBA
Wed., Mar. 6: Jerry Hoerber, Roadside Cleanups
---