Rotary Rewind – Dec. 5, 2018
Posted By admin
---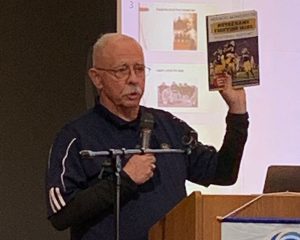 Rotary Rewind – Dec. 5, 2018
If you didn't make it to this week's Rotary Club of Forest Grove meeting, below is an overview of what you missed.
Announcements
Hope for the Holidays: Thank you to all of our members who have contributed to our annual Hope for the Holidays service project. We have received cash donations and pledges totaling $5,874. Added to our $1,500 District Grant, we are up to $7,374. This year's shopping excursion will be on Tues., Dec. 18.
If you know of a family that would be a candidate for Hope For The Holidays, the nomination form can be Downloaded Here. To be considered, forms must be submitted to Claudia Yakos by this Monday, Dec. 10 at 10 a.m.
Holiday Light Parade: We had another fun and successful outing at the Forest Grove Holiday Light Parade! Special thank you to Tara Cirlincione, who organized the float building and came up with this year's theme, "Rotarians' Workshop," and to Jeff Duyck for the use of his warehouse and trailer.
Thank you to those Rotarians who helped build the float: Tara Cirlincione, Stan Reasoner, Corinne Reasoner, Scott Coffey, Andrea Stewart, Tim Pearson, Julia Kollar, Paul Waterstreet, Pete Van Dyke and Blake Timm.
Thank you to those Rotarians who participated in the parade: Tara Cirlincione, Stan Reasoner, Corinne Reasoner, Scott Coffey, Tim Pearson, Paul Waterstreet, Tom Raabe (and Becca), Blake Timm (and Sydney), Pete Van Dyke, Lori Larson and exchange student Sara Bang.
Interact Club Food Baskets: The Forest Grove High School Interact Club is collecting non-perishable food items to put together food baskets to give to families in need during the holiday season. Lorrie Hutchins will be collecting items at our club meeting this next Wednesday, Dec. 12. Any food items you can provide will be much appreciated.
Rotary Foundation Update: To date, club members have contributed a total of $2,590 towards The Rotary Foundation and $845 towards PolioPlus. We have a good start on reaching our club goals of $9,000 for TRF giving and $1,500 towards PolioPlus giving. Thank you!
Be The Inspiration Award: This week's Be The Inspiration award winner is Sharon Olmstead as presented by Janet Peters. Congratulations Sharon!
Troop 213 Tree Lot Canceled: In a break of tradition of many decades, the Scouting troop connected to our club, Troop 213, will not be selling Christmas trees this year. With the shortage of trees in the Northwest due to the hot summer weather, the troop's tree supplier sold the trees to another party without letting the troop know. The tree lot is the primary fundraiser for the troop.
Rotary Funds Pacific First Year Seminar Project: At Wednesday's meeting, we were visited by members of a First Year Seminar class at Pacific University that is conducting a service project that is being partially funded by a $500 grant from the club. Alyssa Chapin, Molly Burton, Savita Wilson and Javier Gonzalez presented on their class service project, which will provide comfort baskets to families in a local neonatal intensive care unit.
Mark Your Calendars For December 19: We will have our joint meeting with the Daybreak Club on Wed., Dec. 19 at Pacific University. Our program that day will be the music programs from Forest Grove High School. It is our final meeting before Christmas, so be sure to join us for what should be a festive day!
Next Week's Duty Roster: Make note of your assignment!
Greeters: Dayna Mullins & Jeannine Murrell
Thought for the Day: Doug Thompson
Rototeller Article: Alma Lozano
Raffle Prize: Mark Nakajima
Wednesday's Program: Mike Steele, Miracle Moments in Notre Dame Football
Mike Steele, distinguished university professor emeritus at Pacific University, spoke at our club about his work chronicling the Notre Dame football team over the years and about his most recent book on the Fighting Irish, Miracle Moments In Notre Dame Football.
Michael R. Steele is the Distinguished University Professor, emeritus, at Pacific University in Forest Grove, Oregon.  He has taught there since 1975 and still serves as an adjunct faculty member.
Steele was born in Norfolk, Virginia, but moved across the country numerous times as the child of a career Navy man.  He graduated from high school in Florida, attended Notre Dame, and earned his Ph. D. at Michigan State prior to moving to Oregon.
With his graduate work capped by a dissertation researched at the British Museum Reading Room in London, investigating British secularism in the 1870s, Steele eventually transitioned into Holocaust Studies.  He was the co-founder, Board member, President, and Executive Director of the Oregon Holocaust Resource Center from 1983 until 2002.  In addition to his several books on Notre Dame football, he has written two books on Holocaust matters, one dealing with theories of tragedy, and one assessing Christianity's impact on and treatment of The Other as a prelude to the Holocaust.  He has been deeply influenced by the work of Russel B. Nye and others who initially promoted popular culture studies; he has augmented this with his own expertise in British culture studies as led by Stuart Hall.
Club Calendar
Mon., Dec. 10: Deadline for Hope For The Holidays nominations (10 a.m. to Claudia Yakos).
Tues., Dec. 11: Concours Committee Meeting, 7 p.m., Forest Grove Chamber Office
Wed., Dec. 12: Weekly Meeting, Noon, Pacific University
Program: PDG Dennis Wickham, Polio Plus
Thurs., Dec. 13: Executive Board Meeting, 7 a.m., Heritage Bank
Tues., Dec. 18: Hope For The Holidays Shopping, 6:30 p.m., Walmart
Wed., Dec. 19: Forest Grove HS Music Program (join meeting with Daybreak)
Thurs., Dec. 20: Board Meeting, 7 a.m., Forest Grove Chamber Office
Wed., Dec. 26: No Meeting – Happy Holidays!
---