Rotary Rewind – Feb. 9, 2022
Posted By admin
---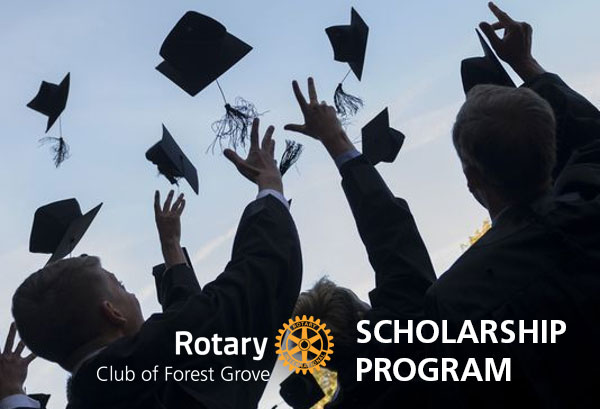 If you didn't make it to our last Rotary Club of Forest Grove meeting, here's what you missed…
Scholarship Program Is Open: Applications are now being accepted for the Rotary Club of Forest Grove's annual scholarship program. Scholarships are awarded to high school seniors that live in the Forest Grove, Gaston and Banks school district attendance areas. These scholarships are made possible thanks to contributions from club members and from our annual car show, the Concours d'Elegance.
Scholarships vary in amounts from $500 to $2,000 and are awarded to help pay for the first year of college of vocational school at a school in the United States.
The application deadline is midnight on Saturday, April 7. The application process will once again take place completely online. Click Here For Additional Details.
For questions, please contact Scholarship Committee chair Sharon Olmstead at sharon.olmstead8571@gmail.com.
Thirsty Thursday/Satellite Club Meeting – This Thursday: After listening to feedback from members, we will return to having weekly meetings at noon on every Wednesday of the month. Satellite Club meetings will return to the third Thursday of each month beginning in February.
This month's Thirsty Thursday/Satellite Club meeting will take place this Thursday, Feb. 17, 6:30 p.m., at The Growler Garage, 1837 Pacific Ave., Forest Grove.
The Concours Is Back – Save The Date: After two years without an in-person show, the planning is in full swing for the 2022 Concours d'Elegance. Our annual show, which raises funds for our club's Scholarship Program, will take place on Sunday, July 17, on the campus of Pacific University.
This year's theme is a celebration of Jaguar. In addition, the show will showcase a salute to British Excellence with feature classes for MG, Triumph and Lotus.
Concours weekend also includes a vineyard concert on Fri., July 15, the annual Vineyard Tour on Sat., July 16 and the Evening of Excellence dinner at the Pumpkin Ridge Golf Course on the evening of Sat., July 16.
For more information on the show, visit forestgroveconcours.org, or contact show chairman Ryan Garcia.
As our club's primary fundraiser for the year, the Concours is an "all hands on deck" event with all club members expected to volunteer.
Steak Sale Is Back On: The club is starting its next Steak Sale Fundraiser, which benefits all of our club's community outreaches. We are offering packs two choice sirloin steaks from Columbia Empire Meats for $20 per pack (note the price increase from previous sales).
Orders for this round are due to Julia Kollar by no later than Sunday, March 13. Steak pickup will be on Thursday, March 17, from 4:30 to 5:30 p.m. at Jeff Duyck's warehouse on 19th Avenue between Main and Ash Streets. For more information or questions, please contact Julia.
Crab Feed Is Back: After two years of cancellations due to the COVID-19 pandemic, the Crab Feed is coming back in 2022!
Our club's annual Crab Feed is scheduled for Wednesday, Apr. 20, from 5 to 8 p.m. at the Forest Grove Senior & Community Center. The Crab Feed is designed to be a social event for club members and their families to celebrate the good work that we do throughout the year. This is also traditionally when the club recognizes its latest Paul Harris Fellows.
Julia Kollar is re-forming the committee to take on the planning and execution of this event. If you are interested in helping out, please contact Julia.
Advanced tickets will be required to be purchased prior to the event (to assist in budgeting) and will be available soon.
Steak Feed Returns: Our annual Steak Feed is also returning after a two-year hiatus. This year's event will take place on Friday, June 10, on the campus of Pacific University.
Designed as a community event, the Steak Feed is specifically targeted as a fundraiser for our club's involvement in the Rotary Youth Exchange program (which we also hope to see return in 2022). A meal featuring a choice steak, potatoes, vegetables and dessert is prepared and served by club members.
As one of our club's major fundraisers, the Steak Feed is an "all hands on deck" event with all club members expected to volunteer. More details on this year's event will be available soon. For more information, please contact Geoff Faris.
Helping The FGHS Food Pantry: As part of our continued partnership with the Forest Grove High School Food Pantry, our club was able to fill a request for 10 plastic bins. These bins are being used to store winter coats that were collected by the school's Renaissance Club.
Road Cleanups Return (Change In Date): After a hiatus by Washington County due to the pandemic, our semi-annual road cleanup service project is set to start up again. Mark your calendars for Saturday, March 12 (note date change), beginning at 8:30 a.m. at the Oregon Department of Forestry at 801 Gales Creek Road.
As part of the Washington County Adopt-A-Road program, our club conducts cleanups on Gales Creek Road between Thatcher Road and Forest Gale Drive and along Thatcher Road between Gales Creek Road and David Hill Road. Our club has been involved with the program for over 25 years. There is no better way for club members to honor Jerry Hoerber's memory than by taking part in this project, which he started and served as chair of for over a quarter-century.
Online Dues Payments: Our club is now equipped to process dues payments online! We can now process credit card or debit card payments for quarterly dues. Information on how to pay online will be included with quarterly billings that will be coming to your mailbox or email inbox.
With the transition to billing with Quickbooks, some members may not have received their quarterly invoice. If you did not, please contact treasurer Lucas Welliver.
FGHS Community Food Pantry: Our club's support for the Forest Grove High School Food Pantry continues. Thanks to its partnership with the Oregon Food Bank, food donations are still welcome but are of less need at this time. Of need, however, are toiletries and hygiene products as well as household cleaning materials.
The Food Pantry is open on Mondays from 4-5:30 p.m. The pantry is now open in its new site in the building along Nichols Lane between the football field and the Basinski Center.
For information on the Food Pantry, please contact Brian Burke, bburke@fgsd.k12.or.us. If you wish to make a cash donation to the pantry, Click Here.
Additionally, Rotarian Gwen Hullinger has put together an Amazon wish list of items that can be purchased and donated. Click Here To View That List.
Past Programs: Did you miss a meeting or want to go back and check out a program again? Most of our programs since May 2020 are archived on our club's YouTube page. Visit https://bit.ly/fgrotaryprograms.
Around District 5100
District Video Updates: The latest video updates from District 5100 leaders are available online. We encourage you to click on the links below and learn more about what is going on with our district's committee.
Update From District Governor Nominee Renee Brouse
PolioPlus Committee Update
Rotary Essential Enrichment Learning (REEL) Update
ShelterBox Ambassador Update
Vocational Service Committee Update
Rotary Youth Exchange Committee Update
Save The Date: District 5100 Rotary One Conference: Mark your calendars for May 19-22 as District 5100 will present its first combined Spring Training Event and annual conference in Seaside. The combined conference will provide Rotary training opportunities, inspirational speakers and a celebration of what is hoped to be a great year in District 5100.
Around Rotary International
Rotary's Seven Centers Of Peace: Rita Lopidia vividly recalls her experiences as a Rotary Peace Fellow at the University of Bradford in England. "The classes in African politics and UN peacekeeping were my favorite," she says. "The politics course challenged me to dig deeper into research to understand the history of the continent, and the peacekeeping class aided my understanding of global politics. As a practitioner, that was an eye-opener to have a global view of events happening around the world."
Lopidia's time at the Rotary Peace Center profoundly affected her. "After graduation, I traveled back to Africa and settled in Uganda due to the ongoing conflict in South Sudan," she explains. "There I established the EVE Organization for Women Development and started engaging the South Sudanese refugees in Uganda and their host communities. Through my organization, we were able to mobilize South Sudanese women to participate in the South Sudan peace process promoted by eastern Africa's Intergovernmental Authority for Development — and that led to the signing of the Revitalised Agreement on the Resolution of the Conflict in the Republic of South Sudan in 2018."
Lopidia is just one of the 1,500-plus peace fellows from more than 115 countries who have graduated from a Rotary Peace Center since the program was created in 1999; the first peace centers began classes three years later. Currently, Rotary has seven peace centers in various locations around the world; the newest, at Makerere University in Kampala, Uganda — the first in Africa — welcomed its inaugural cohort of peace fellows in 2021. Next, Rotary plans to establish a peace center in the Middle East or North Africa, perhaps as soon as 2024, and has set its sights on opening one in Latin America by 2030.
As you will discover, the curriculum at each peace center has been carefully crafted to address specific aspects of the peacebuilding process — and train the next generation of global change-makers.
Click Here To Learn More About The Rotary Peace Centers
Last Week's Program: Grant Kirby, Oregon Manufacturing Innovation Center
Click Here To Watch The Full Program
For this week's program, we were joined by Grant Kirby, the workforce development coordinator for the Oregon Manufacturing Innovation Center. Located in Scappoose, OMIC is a unique facility, which provides research and development for the manufacturing industry.
Grant joined OMIC on a full-time basis in July 2021 after a 17-year career as an information technology professor at the Oregon Institute of Technology's Portland campus. His background also includes work with Intel.
Grant describes his work with OMIC as the most fun he has ever had at a job because he gets to connect people and businesses and provide training to allow people, especially underserved populations, to find fulfilling, living wage jobs in the manufacturing sector.
The OMIC research center in Scappoose is modeled after a similar facility in Sheffield, England. The center is funded by 42 paying partners from the United States, Europe and Japan in the manufacturing and fabrication industries. The funding provided by those partners pays for fundamental research which is then shared with all of OMIC's partners. Any research that is not claimed by one of the partners is then published to be shared publicly.
Among OMIC's top partners from the United States include Boeing, Daimler and Oregon Tool.
The research facility allows the partners to test manufacturing machines in a safe environment and best decide if those machines fit their needs or need to through further modifications. The machinery used is provided by the partners and kept by OMIC for around 18 months. After that time, the machines are sold and are replaced by new equipment.
OMIC is in the process of adding another 32,000-square-foot facility to work with additive manufacturing for metals, a process that is similar to 3D printing. The center will have six of the seven needed technologies for additive manufacturing to research.
You can learn more about OMIC at omic.us.
Club Calendar
Wed., Feb. 16: Weekly Meeting, Noon
Boxer Pause Room, Pacific University
Program: Steve Kilston, Astronomer & Inventor
Thurs., Feb. 17: Thirsty Thursday/Satellite Club Meeting, 6:30 p.m.
The Growler Garage, 1837 Pacific Ave., Forest Grove
Wed., Feb. 23: Weekly Meeting, Noon
Boxer Pause Room, Pacific University
Program: Raziah Roushan, Tualatin Valley Creates
Sat., Mar. 12: Road Cleanup, 8:30 a.m.
Oregon Department of Forestry, 801 Gales Creek Rd., Forest Grove
Sun., Mar 13: Deadline For Steak Sale Orders
Sat., Apr. 7: Rotary Scholarship Program Application Deadline
Wed., Apr. 20: Rotary Crab Feed, 5 p.m.
Forest Grove Senior & Community Center
Fri., June 10: Steak Feed, 5 p.m.
Pacific University Campus
Sun., July 17: Concours d'Elegance
Pacific University Campus
---