Chris Simmons Named April Youth Citizen of the Month
Posted By admin
---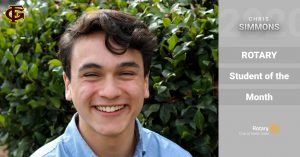 The Rotary Club of Forest Grove has named Chris Simmons, a senior at Forest Grove High School, as its April 2020 Youth Citizen of the Month.
Simmons was honored during the club's online meeting on April 15. In recognition of his selection, Simmons received a certificate and a $50 gift card to Frye's Action Athletics.
Among his many activities, Simmons was instrumental in the development and creation of the high school's food pantry, which continues to provide an essential service during the COVID-19 outbreak. The Rotary Club of Forest Grove is proud to have partnered in the start-up of the pantry.
"Chris is outgoing, compassionate towards others, and incredibly resilient," said one teacher in Simmons' nomination. "Rather than dwelling on the obstacles he has faced, Chris continues to move towards his goal of going to college and becoming a computer engineer.  He is determined to help as many people as possible while on this journey."
During his time at FGHS, Simmons has taken the most rigorous course load available to him, becoming an AP Scholar with Distinction as well as one of the school's Valedictorians.  He has also taken on a leadership role in his elective coursework, by participating in the Viking House program, where students build a house from foundations to finishings.  This is an incredible commitment involving extra work on evenings and weekends.
Simmons has also participated in extensive volunteer opportunities through National Honor Society and Key Club.  He has demonstrated outstanding leadership qualities while serving in the ASB Leadership class.
"Christopher Simmons is the type of student you experience once in a lifetime in education,"said the nomination. "I have never met a young man with greater integrity, determination, or compassion for others.  He is a natural and talented leader with unparalleled academic abilities.  Chris is sure to be highly successful in both his personal and professional life and any college campus would be privileged to have him as part of their community."
A long-standing program with the Rotary Club of Forest Grove, the Youth Citizen of the Month program recognizes local eighth-graders and high school seniors who possess high standards of personal behavior and good citizenship, exemplify the ideals of Rotary, follow school rules and have excellent behavioral records.
The Rotary Youth Citizen of the Month is rotated between the area's three local school districts: Forest Grove, Banks and Gaston.
---