Rotary Rewind – June 5, 2019
Posted By admin
---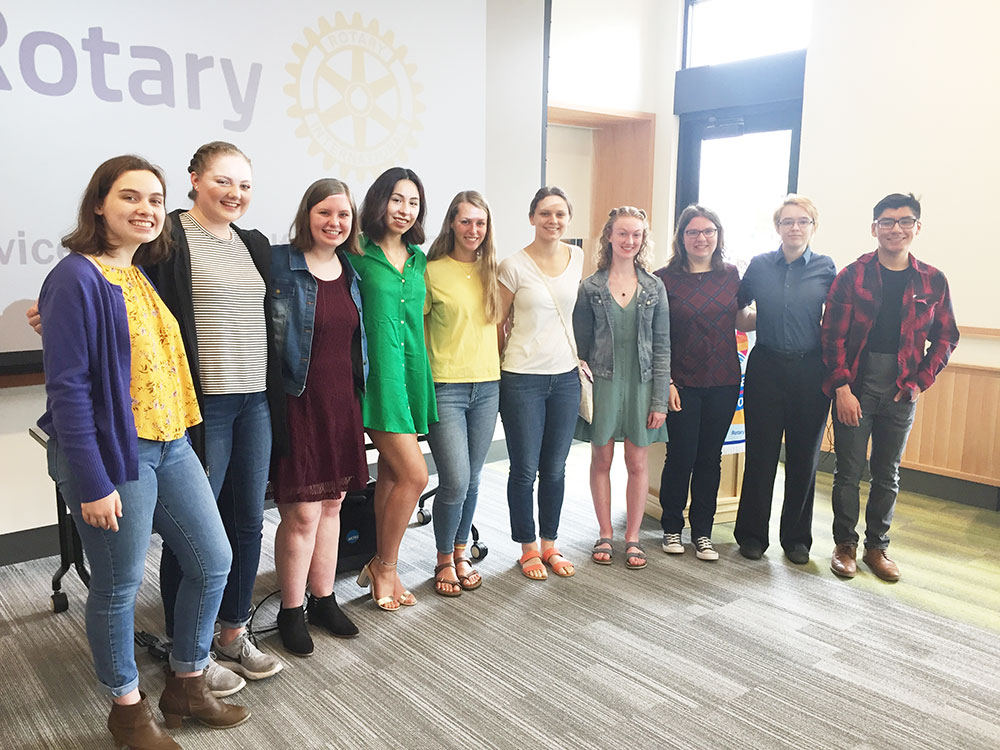 Ten of our 2019 Rotary Club of Forest Grove Scholarship Winners
If you didn't make it to this week's Rotary Club of Forest Grove meeting, below is an overview of what you missed.
Announcements
Steak Feed: Thank you to all of our members and as number of volunteers who came out to make our annual Steak Feed a success! The forecast rain held off and we were able to serve over 600 steaks and dinners to help finance our participation in the Rotary Youth Exchange Program. A special thank you to the Steak Feed Committee, co-chaired by Geoff Faris and Jeff Duyck, for their hard work leading up to and during the event.
Road Cleanup: The second of our semi-annual road cleanup days took place on Sat., June 1. Thank you to the five Rotarians who took time out of their morning to take part in this important continuing service project. A special thank you to Jerry Hoerber for his continued leadership in the program.
The next road cleanup is scheduled for Sat., Oct. 5. Put this date on your calendar and let's see how many Rotarians we can get out to make our community cleaner!
Noon Meetings On The Move! With the transition of Pacific University's food service from Aramark to Bon Appetit, we will be on the road for our Wednesday noon meetings for the next couple of weeks.
Wed., June 12: We will meet at Prime Time, 4450 Pacific Ave., Forest Grove.
Wed., June 19: End of Year Celebration 6 p.m., Prime Time. There will be no noon meeting on this date.
Save The Date – End Of Year Celebration: Our annual End of Year Banquet and awards celebration is scheduled for Wed., June 19, 6 p.m., at Prime Time. If you were not at Wednesday's meeting, expect to see an invitation in the mail soon! Please plan on joining us in celebrating the past year for our club, to recognize fellow Rotarians for their service and for the official passing of the president's gavel from Blake Timm to Tim Pearson. There will be no noon meeting that day.
We need to receive RSVP cards by no later than Friday, June 14. Please send the postage paid postcard back to Blake Timm.
Concours d'Elegance: Our annual Concours d'Elegance is coming up quickly! Make sure you are planning on being in Forest Grove on July 20 and 21 as we put on one of the best Concours-level car shows in the world! The show takes place on Sun., Jul 21 on the campus of Pacific University and is our club's primary fundraiser of the year. The majority of the proceeds go to support our scholarship program. You can learn more about this year's show at forestgroveconcours.org.
The Concours steering committee is now meeting weekly as the planning and execution of show kicks into high gear. All club members are welcome at planning meetings. The next will be this Tuesday, 7 p.m., at the Forest Grove Chamber Office.
Forest Grove Summer Meals Program – Help Needed: At our May 22 meeting, Rotarian Rudy Tinoco spoke to the volunteer need for the Forest Grove Summer Meals program that is being coordinated through Old Town Church Forest Grove. Working with the Forest Grove School District, Summer Meals is a federally funded program that ensures all children up to age 18 meet their nutritional needs. Meals are served Monday through Friday, 12 to 12:30 p.m., from June 17 to August 16 at parks around Forest Grove and Cornelius. It is estimated that the program serves thousands of meals to children in our area each week. For some children, it may be their only meal of the day.
To learn more about the program or to sign up to volunteer, please visit http://communityconnectionwest.org/summer-lunch-program.
Love Rocks Run: Our club is a proud sponsor of the Love Rocks Run coming up on Saturday, June 29. As part of our sponsorship, we will be running a booth at the run's community fair to provide a game for families to play and to help raise awareness of Rotary. Volunteers are needed to help staff the booth from 8 a.m. until 1 p.m. If you are interested and able to volunteer, please contact Michelle Thomas.
Be The Inspiration Award: This week's Be The Inspiration Award recipient was Ken Cunningham as presented by Paul Minor. Congratulations Paul!
Foundation Goals Have Been Met!: Thanks to your generosity, our club has met and surpassed its Rotary Foundation giving goals for the year! To date, we have raised $10,087 towards a goal of $9,000 to our contributions to the foundation annual fund. We have raised $2,663 towards a goal of $1,500 towards our Polio Plus giving. Because of your generosity, we will continue to be able to leverage District 5100 grant funding to fund such club projects as Hope for the Holidays and Peace Village.
This does not mean we should stop giving! Every dollar given continues to support Rotary's work locally and throughout the world. The more we raise, the more good we do.
Peace Village: Our club and the Forest Grove Rotary Daybreak Club have both received District 5100 Matching Grants to help towards our club's joint Peace Village project. The camp, which will target middle school students in teaching skills in conflict resolution, media literacy, connections with nature and mindfulness, will take place in August. The project is a joint between our Rotary Club and the Forest Grove Daybreak Rotary Club. If you are interested in learning more or getting involved in the planning process, see Loren Waltz, or Howard Sullivan. To learn more about Peace Village, Visit Their Website.
 Have A Program Idea?: If you have an idea for a program or would like to present something yourself, let our program chair, Julia Kollar, know. She will also have a program planning board at meetings so you can see what is on deck and what dates may be available.
Last Week's Program – Rotary Scholarships
Last Wednesday we had the honor of recognizing 10 of the 14 recipients of this year's Rotary Scholarships. This year, the committee awarded over $14,000 in scholarships to graduating seniors from Forest Grove, Banks and Gaston high schools. The funds for our annual scholarship program come directly from proceeds from our annual Concours d'Elegance Car Show.
To watch a video of our scholarship recipients telling about their future plans, Click Here.
2019 ROTARY SCHOLARSHIP RECIPIENTS
Forest Grove High School:Cecelia Calderon-Duyck, Anna Dillavou, Dominic Funk, Maya Harrison, Emily Lester, Sophia (Lucien) Mallett, Elizabeth Rasmussen, Erika Tellez-Mendoza, Erick VillaFlores, Amanda Yakos.
Banks High School: Annika Mayo, Chloe Sinz, Hayden Vandehey.
Gaston High School: Abigail Oliver.
Next Week's Duty Roster: Make note of your assignment!
Greeters: Michael Doherty & Jeff Duyck
Thought for the Day: Greg Nemchick
Rototeller Article: Don Compton
Raffle Prize: Loren Waltz
Club Calendar
Tues., June 11: Concours d'Elegance Meeting, 7 p.m., Forest Grove Chamber Office
Wed., June 12: Weekly Meeting, Noon, Prime Time
Program: Howard Sullivan – Peace Village Forest Grove
Wed., June 19: End of Year Celebration, Prime Time
Sun., July 21: Concours d'Elegance, Pacific University Campus
---